Anantara Dhigu Maldives Resort welcomes you to discover a tropical paradise island. Wake up to soothing views of the endless deep blue Indian Ocean. Take a morning plunge in the gentle waters of a turquoise lagoon directly from your over water villa. Kayak to Guli Fushi Island at the edge of the lagoon for snorkelling.
Dhigufinolhu Island in the South Malé Atoll, is Anantara Dhigu Maldives Resort, comprising of some of the most spacious luxury villas in Maldives, some with private plunge pools and just a 35 minute speedboat ride from Velana International Airport. The tropical lagoon setting creates a Maldivian paradise of breathtaking natural wonders, where the warmest heartfelt welcome leads to journeys that can be deeply relaxing or truly invigorating. From the moment you arrive, peer into the crystal waters below the jetty of our Maldives resort at puffer fish, sting rays and baby reef sharks. Take part in an array of water sports including diving, snorkelling, surfing and island hopping.
Anantara Dhigu's evocative location is matched by a tranquil island design approach that feels like home away from home while providing you with excellent facilities. Play tennis, hit the gym and swim in the infinity edge pool, or simply unwind at Anantara Spa with a range of  renowned signature treatments. Discover your own paradise at Anantara Dhigu Maldives Resort.
3 Nights | Sunrise Beach Villa | Halfboard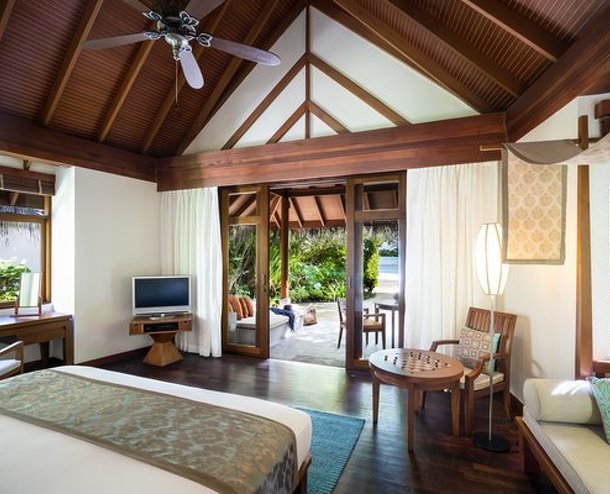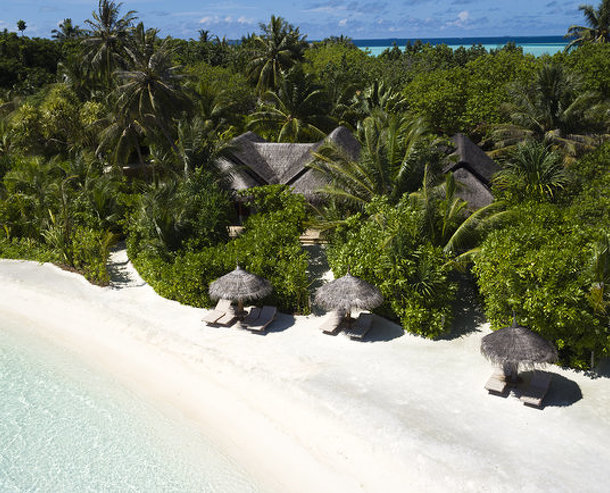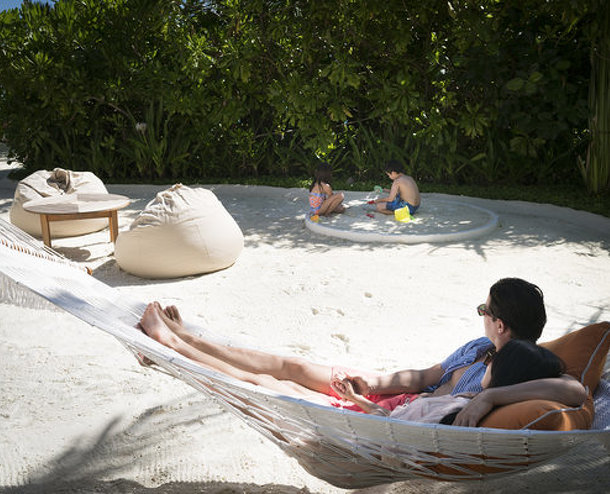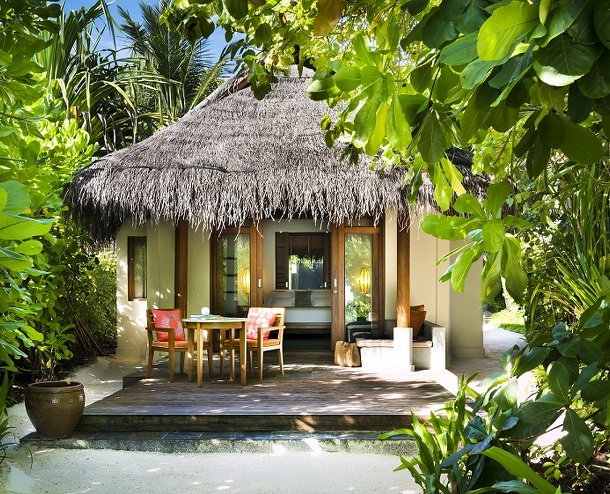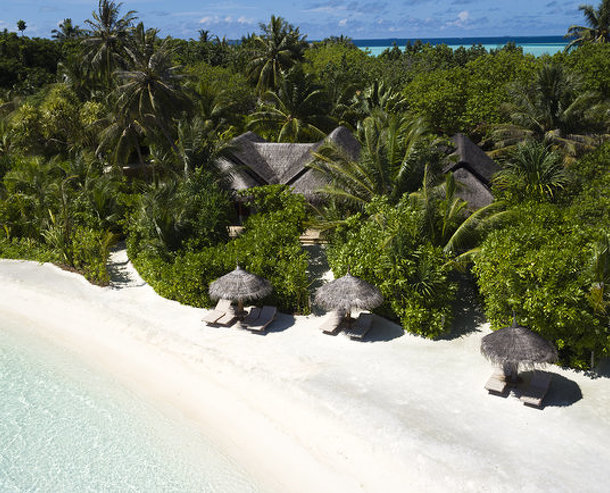 Wake up to the first sun rays glinting off the Indian Ocean horizon, either while you relax in bed and admire the view through floor to ceiling windows, or from your sun terrace that is decked out with loungers and dining furniture. These idyllic bungalow style Maldives beach villas offer 125 square metres of natural beauty and luxurious comforts.  Designed in tropical island style, a marine colour scheme reflects the seascape and is accented by handcrafted timber decorations.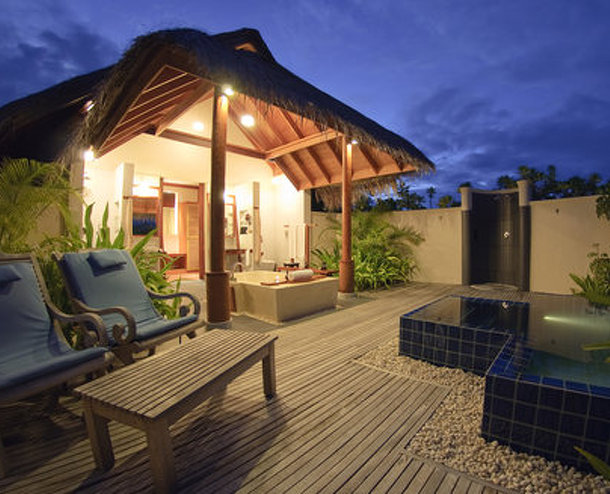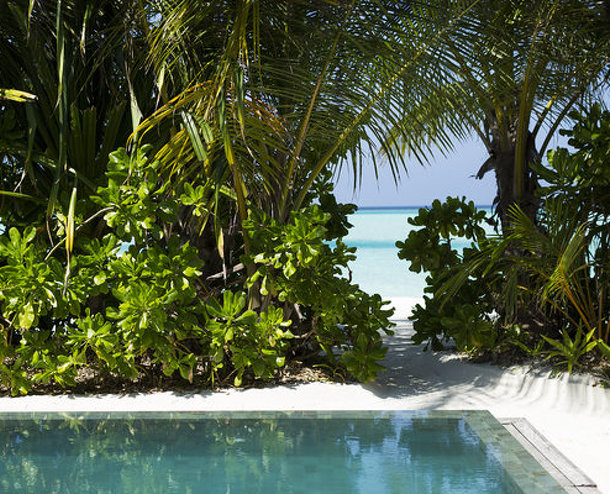 Our Sunset Pool Villas comprise 180 square metres of prime luxury accommodation on Dhigu beach in the Maldives. Lounge on your own stretch of powder white sand, cool down in the villa's private rear garden plunge pool or take a stroll round the lush tropical island. Each Sunset Pool Villa at Anantara Dhigu is designed to offer the utmost experience among the Maldivian resorts, with locally inspired high-quality décor and an array of guest amenities. Facilities stretch from a terrazzo tub, outdoor rain shower and dressing room area to modern conveniences including flat-screen satellite TV, iPod docking station, CD/DVD player, and mini bar.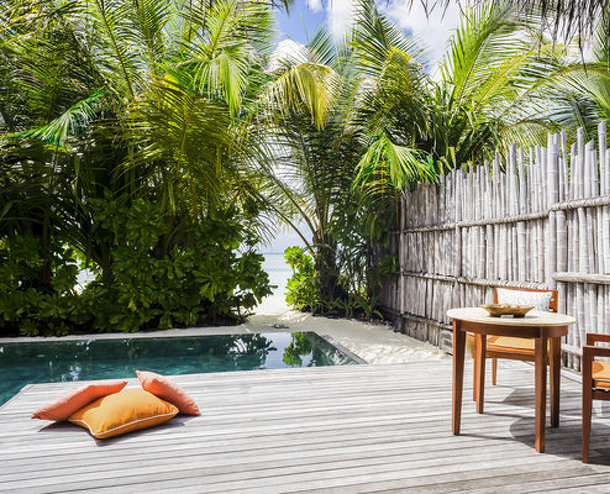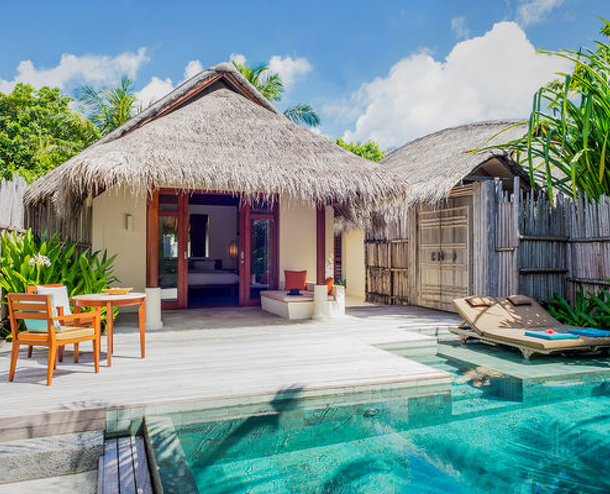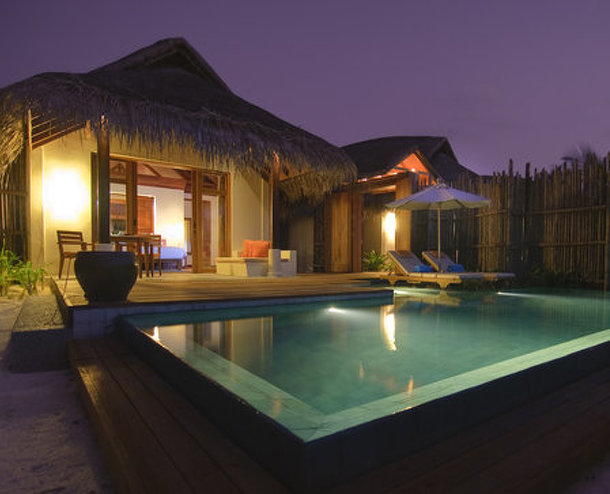 180 square metres of laid-back comfort awaits guests at the Anantara Pool Villas. Each of these beachfront villas features a plunge pool positioned just steps away from a white sandy beach. Catch the last rays of daylight each evening from the sun terrace complete with daybed, sun loungers and dining area.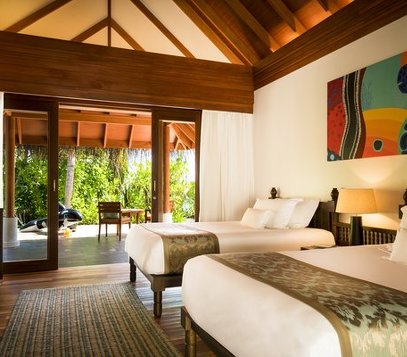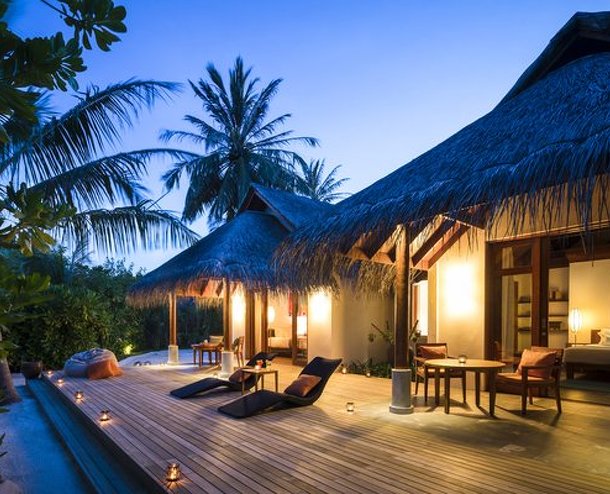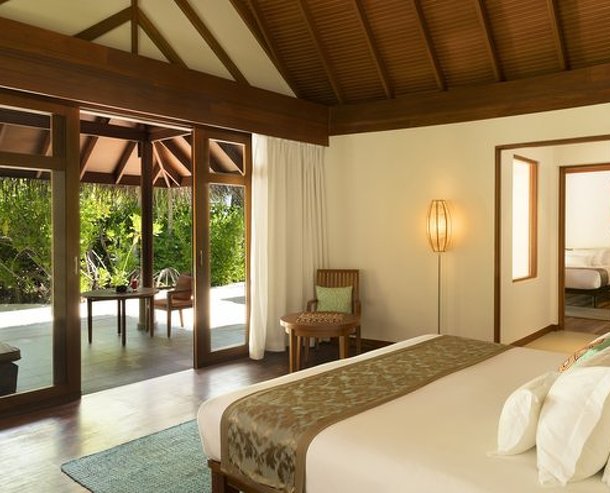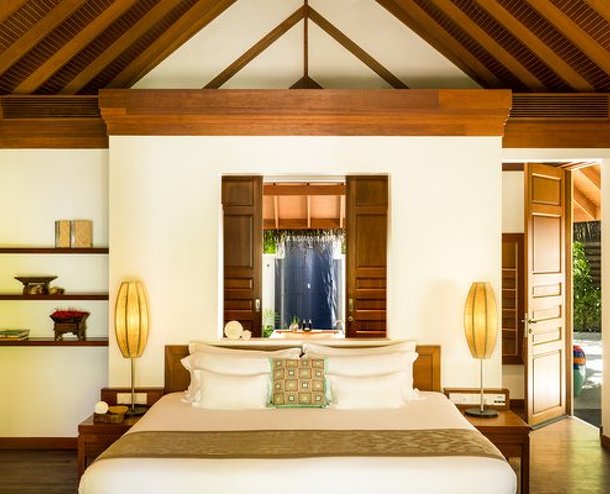 Surround your family with direct access to pure white sand, uninterrupted views of the lagoon and wrapped in the privacy of a lush garden. Contemporary and spacious our luxury Two Bedroom Family Villas offer a children's bedroom, complete with two twin beds and an en-suite landscaped bathroom. For larger families, there is enough room for a third single bed or cot. The main bedroom offers a large King-size bed along with a daybed seating area and desk. Adjoining the main bedroom is an enormous open air bathroom in a landscaped garden area, with an outdoor shower and terrazzo bathtub.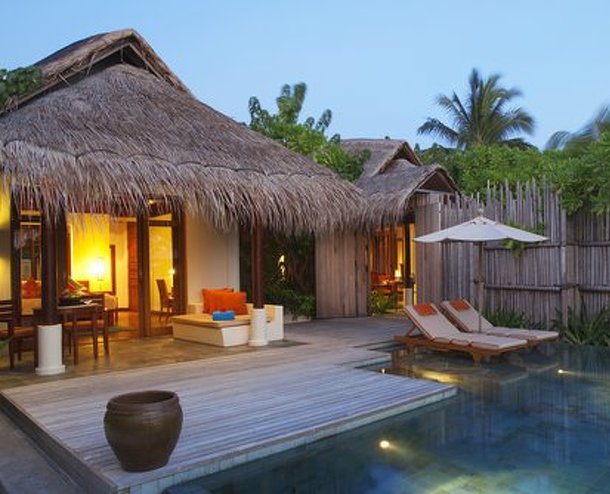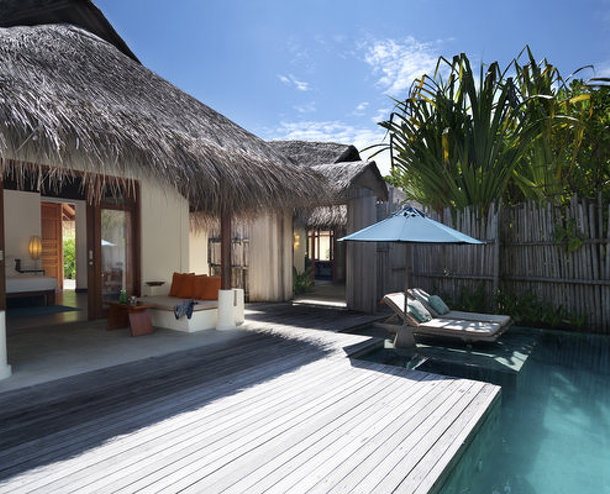 Two Bedroom Anantara Pool Villa
Share quality time in paradise with family or friends in a beautiful semi-connected villa spanning 321 square metres. Two separate villa bedrooms feature a spacious open air bathroom and are outer-connected via your sundeck. Revel in a private plunge pool, a breathtaking sunset view and direct beach location.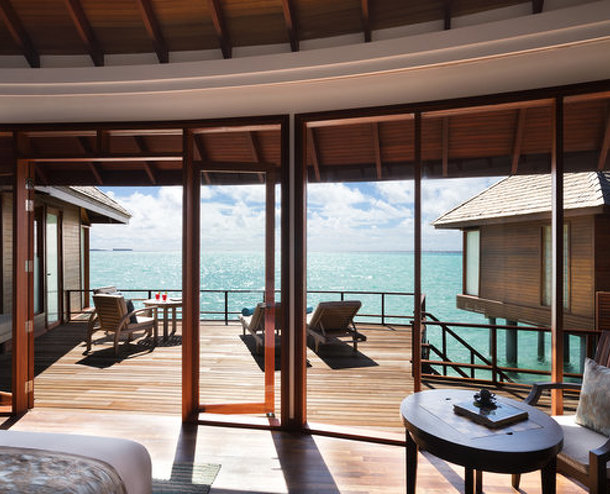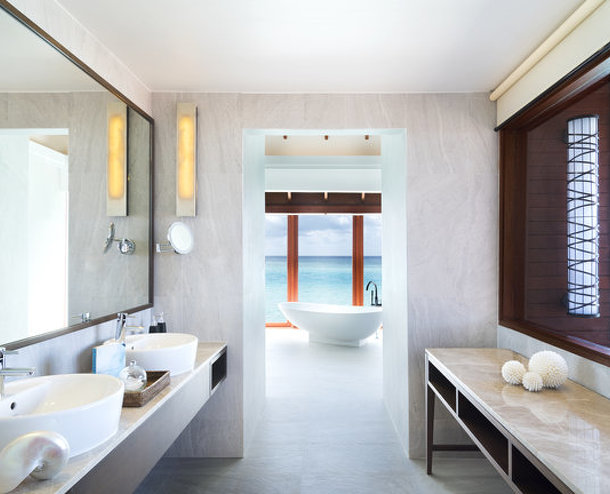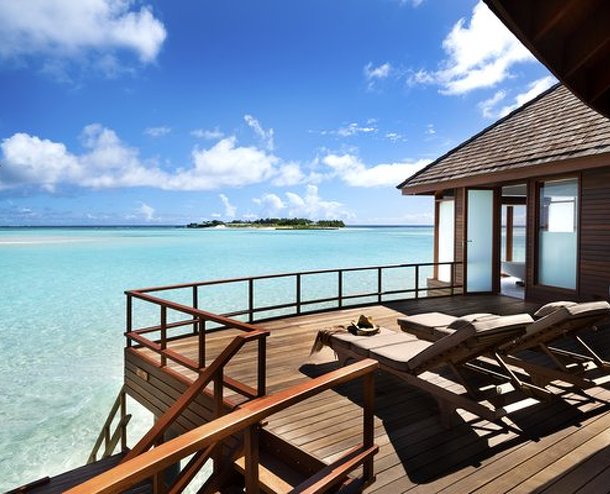 Retreat to a luxurious hideaway on a boardwalk over the lagoon and a short stroll from the beach. Wake up to the iconic Maldivian over water experience with sunrise views across the lagoon. Floor to ceiling glass panels in the bedroom allow natural light to stream through, opening onto a spacious deck where you can soak up the atmosphere and gaze across a palette of blues to a warm ocean breeze.
In-room glass viewing panels in the bathroom floor offer glimpses of marine life unfolding. A sleek bathtub, Grohe rain shower and light grey Italian ceramic tiling throughout completes the contemporary feel of this room. Step onto your sundeck to enjoy sun loungers, outdoor dining, a rinse shower and steps leading to direct ocean access for snorkelling with the lagoon's marine life.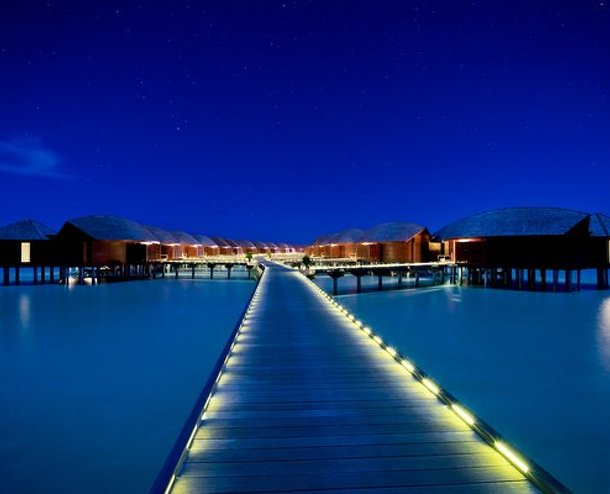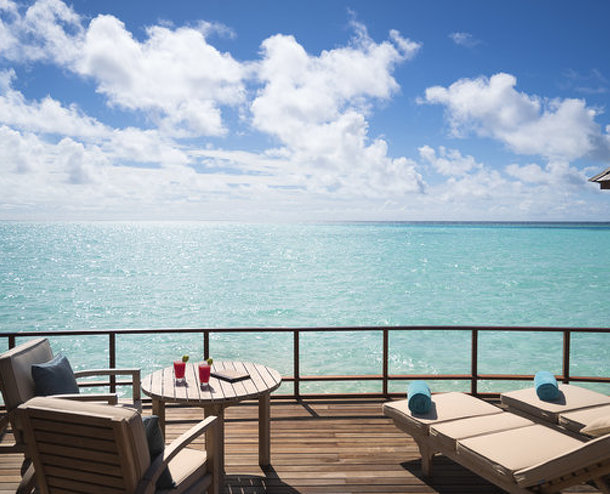 Take in nature's mesmerising light show from your Over Water Suite deck as dusk falls over the lagoon, or gaze out from your bathtub across the turquoise waters. Experience true bliss in this luxurious sanctuary surrounded by crystal blue waters. Expansive views from the bedroom through floor to ceiling glass panels brighten the room with natural light, opening onto a spacious deck. Here you can soak up the sun in privacy and gaze across a palette of blues or admire this vista while relaxing in bed to a warm ocean breeze. The inspiring feature of this room comes to light at that magic hour when the sun sets and the sky is illuminated with the brilliant stars.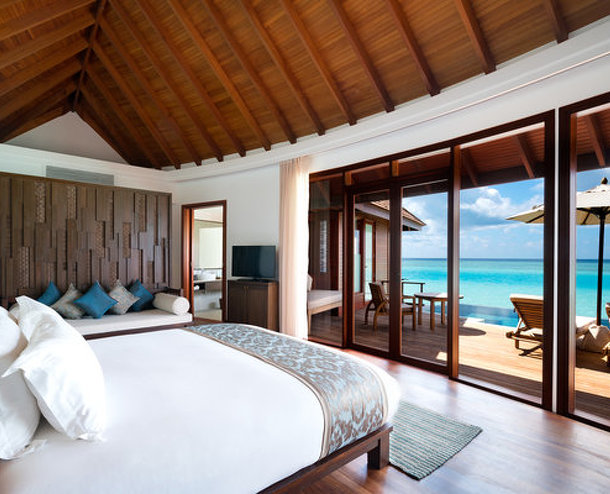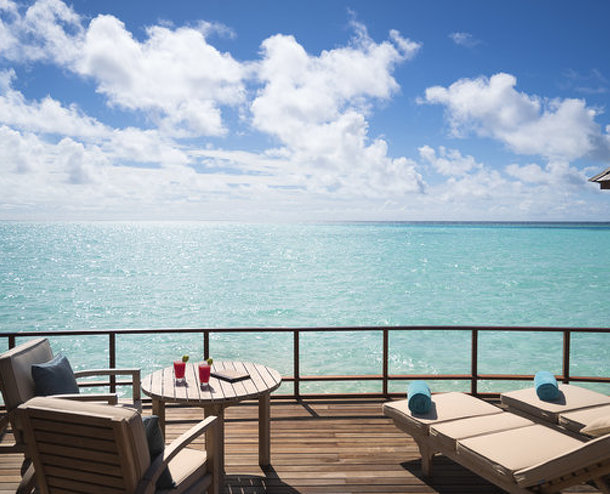 Anantara Over Water Pool Suite
After a day spent swimming in the blue lagoon beneath your suite or relaxing in your private plunge pool with a drink at hand, comes every guest's big decision: take a nap on your terrace or soak in the indoor bathtub with picture-perfect views of the Indian Ocean. Be enthralled by the natural light show from your private deck as dusk falls over the lagoon to an ever-changing sky. Stargaze by night, sunbathe by day on spacious sun deck as you soak up the atmosphere and gaze across a palette of Maldivian blues.
Greet the Maldivian morning sunrise, at the Fushi Café on the white sandy beach of DhiguIsland. Enjoy informal dining at leisure, including American breakfast buffets and themed Maldivian dinner buffets set to the tune of the Bodhu Beru band. Open 7.00-10.30 am for Breakfast and 6.30-10.30 pm for Dinner daily
Sample the freshest seafood scooped straight from the ocean or feast on imported steaks at the lively Fuddan Fusion Grill. Prime aged imported cuts from Japan and Australia. Maldivian prawns, Wahoo and lobster. Facing the inner turquoise reef, the grill offers fine dining by the sea with a variety of cooking styles; flame grilled, tandoori, wok sautéed, fired in a wood oven. Tell us how you like it prepared.
Anantara Dhigu Maldives brings Italy to the tropics at Terrazzo, an intimate ocean-view restaurant serving rustic Italian favorites like wood-fire pizzas, homemade pastas and delectable seafood. Signature dishes include homemade lobster ravioli, tableside-spun Caesar salad and a sumptuous seafood spread. Accompanying the food is a selection of wines from both northern and southern regions of Italy, paired perfectly to your meal thanks to the resident Wine Guru.
Providing poolside refreshments and light snacks, Aqua at Anantara Dhigu Maldives is the perfect gathering point for another day in paradise. Accessible both in and out of the water, you can swim up to the bar and create your own cocktail from a range of ingredients. Early evening ushers in picturesque sunsets while you savor a drink in the lounge area.
The centre of conviviality - the open-sided Sails Bar is the natural place under the palms for a refreshing juice, beer or wine at any time. In the evening, mellow music accompanies the joy of camaraderie and the enjoyment of amazing cocktails, fine spirits and liqueurs.
Dine on fragrant Thai cuisine in a beautiful over-water teak restaurant with ocean views. Baan Huraa at Anantara Veli serves a unique dining experience concocted by some of the finest Thai chefs. Signature dishes include coconut curries from Thailand's southern provinces as well as hot and spicy dishes from the north, bound together by an authenticity of flavour. Baan Huraa is among the finest Thai luxury restaurants in the Maldives.
73 Degrees' light and airy Maldivian style thatched roof pavilion faces the lagoon of Veligandu Huraa. Dine at the sumptuous breakfast buffet of fresh tropical fruits and juices, cereals, homemade breads, grilled meats, vegetables and made to order omelettes. The ocean view restaurant also has the perfect accompaniment to dining by the sea: a Seafood buffet where you can select fish plucked straight from the ocean.
Kick back by the tranquil lagoon of Veli. The poolside bar is the place to savor cocktails and chilled-out vibes. Settle into the infinity edge pool and glance at the seascape as you unwind with other guests. Anantara Veli Maldives' Dhoni ocean view bar serves an array of island style cocktails and light snacks, perfect for those Maldivian sunsets.
Enjoy freshly-baked crusts and piled high toppings from the wood-fired oven. You've found your perfect spot for inventive pizza and light snacks overlooking the lagoon at Veligandu Huraa. Dine al fresco on the deck or in the thatched roof pavilion. Sit back or try a game of pool, steps away from the free-standing bar. This could become your hang out.
From tropical picnics along unspoiled shores to the unadulterated luxury of a sunset cruise, Anantara Dhigu Maldives presents you a multitude of leisure activities to indulge in.



 Diving – Maldives is known as one of the finest dive sites on the planet, and we have a multitude of dive options to suit all.



 Island Hopping – Discover the range of island jewels surrounding Dhigu Island. See the many different forms paradise can take; tour the atoll, explore the daily life of fishermen, shop with the locals, Get up close and personal with marine life



 Island Picnic – Spend an afternoon living out your desert island daydreams with an island picnic excursion. A tiny uninhabited island offshore in Anantara's lagoon is your playground for the day. Frolic in pristine waters, explore stunning reefs and enjoy a specially prepared picnic on white sands.



 Malé Excursions – There are plenty of things to do in the bustling Maldivian capital, Malé. The city offers distinctive architecture, local markets, tranquil mosques and the regal Presidential Palace. Immerse yourself in the local culture at the National Museum and taste some of the country's authentic local delicacies.



 Sunset Cruise – Cruise a tranquil turquoise lagoon in unadulterated luxury. Savour pure indulgence with a personal wine cellar, bar and chill-out area on board. Listen to the melodic rolling of the waves, or play your favourite sunset beats from a pre-loaded iPod. Watch the setting sun dip behind the horizon with champagne in hand. A true Maldives leisure experience like no other.



 Sunset Hand- line Fishing – Try your skills at hand line fishing and experience the glittering waters from a local's point of view aboard a traditional sailing dhoni. This natural technique uses no equipment beyond a single fishing line held by hand and dropped to the floor of the ocean reef. A bite is almost guaranteed. Take your catch back to land and the chefs at Fuddan grill will prepare it to your liking the very next day. 
Activities. Every day, Anantara Dhigu Maldives offers a range of organised and do-it-yourself resort activities in the gorgeous surrounds of this island retreat. Select from a range of indoor and outdoor activities, the very best of Maldives five star resort activities in comfort and style.



 Anantara Over-Water Spa – The highlight of any stay with Anantara, Dhigu Maldives resort is no exception. The serene Anantara Spa offers a range of specially composed treatments to soothe body and mind in a truly awe-inspiring setting.



 Beachside Yoga – Gain physical poise and mental peace through ancient exercises drawn from centuries of traditional South Asian wisdom. Whether a beginner or an expert, let the professional instructors guide you through lessons either in a group or private session.



 Boutique – A thousands miles away from it all, this Maldives boutique brings the world to you, with all of life's small necessities as well as exotic goods and handicrafts from across Asia and the Indian Subcontinent.



 Cooking School – Expose yourself to an array of inspired culinary creations; learn the tricks of the trade with a cooking class from the resident master chefs. This resort activity lets you recreate traditional Maldivian, Thai and fusion dishes to impress your friends back home.



 Dhoni Kids Club – Open for children from the ages 3 to 11, the Dhoni Kids Club keeps the youngest guests entertained with a packed programme featuring beach and outdoor activities, as well as crafts and games that are fun, educational and culturally enriching. All are under the supervision of the in-house Kids' Coordinator. Children aged three or under are welcome when accompanied by an adult. Childcare services are available for a fee.



 Fitness – Anantara Dhigu Maldives' gym is equipped with everything you need to keep you looking and feeling good. Rejuvenate your body as you work out alone or with your personal trainer.



 Library – Not all Anantara Dhigu Maldives activities need to be energetic. The library lets you sink into a chair to enjoy a new novel or catch up on all that is going on back in the 'real world' with computers and internet access.



 Morning Meditation – Clear your mind and achieve a sense of heightened well-being with gentle stretching and meditation to start your day. At Anantara Dhigu Maldives's guided meditation sessions on the beach, draw inspiration from the gorgeous island surrounds as they are awakened by the dawn. 



 Snorkeling – Explore the turquoise tropical lagoon and reef around which Anantara Dhigu Maldives is situated. Unencumbered by heavy scuba equipment, snorkelling offers you a safe and easy way to get acquainted with the world below, and see some of the most celebrated marine life on the planet as you be a part of one of the best loved resort activities.



 Swimming – Slide into the tranquil waters of a stunning freshwater infinity-edge pool situated right on the edge of the beach. Gaze out across the expanse of aquamarine sea as you float, soak or splash your worries away. Protected by outer reefs, the shallow waters of the island's large lagoon offer an ideal spot for wading, floating or a relaxed swim.



 Tennis – Anantara Dhigu Maldives's floodlit tennis courts mean that you can continue with a doubles match even after the sun sets. Fitness centre staff are at hand to provide lessons for beginners or a little bit of a challenge if you're looking for a partner. 



 Volleyball & Badminton – Feeling waterlogged? Landlubbers can always take part in a pick-up match of volleyball or badminton on the beach – just let us know and we'll provide the nets and equipment and turn a strip of beach into your court.



 The Anantara Surf School by Tropicsurf – Step away from the white sand and into adventures amidst the blue Indian Ocean and its world-class waves. Get your ticket to ride the waves at The Anantara Surf School by Tropicsurf. We can accommodate all abilities of surfer, from those looking to take their first tentative steps to dedicated pros in search of the biggest, hollowest waves around.