Experience an island paradise of chic simplicity in a serene adults-only tropical setting replete with soft white sand and azure waters at Anantara Veli Maldives Resort. Relax with your loved one, or friends in the over water bungalows of our Maldives resort as a spectacular selection of sea life swims beneath you. Dive into an array of water sports in the tranquil surrounds of our island resort's crystal clear lagoon. Unwind or discover a path of wellness at the Sundari Ayurvedic Spa with a range of treatments to soothe body and mind.
Anantara Veli is perfectly suited to couples or groups of friends looking for a relaxing island hideaway where turquoise waters beckon from your choice of intimate accommodation bungalows, some with direct lagoon access. Unwind on a sun deck overlooking the palm fringed island and pristine coral reefs in the South Malé Atoll, just 35 minutes from Velana International Airport.
The perfect romantic getaway is provided for couples, whether on a honeymoon or another special occasion with a host of dining options of various world cuisines, premier five star Maldives resort facilities such as an infinity edge pool and fitness centre, as well as a multitude of water sports, from diving to surfing, deep sea fishing and sailing. At our stunning Maldives resort, you can unwind any way you choose.
Children and families are most welcome to stay on our sister resort, Anantara Dhigu, which is just minutes away and offering a children's club, family friend accommodation, as well as a range of activities and facilities specially designed with families in mind. In addition, families are able to dine at Baan Hurraa, Origami and 73 Degrees restaurants on Anantara Veli for dinner before 9.00 pm.
Anantara Veli key features:
25 Over Water Bungalows, 11 Superior Over Water Bungalows,
14 Deluxe Over Water Bungalows, 7 Ocean Pool Bungalows 
and 10 Deluxe Over Water Pool Bungalows
Sundari Ayurvedic Spa
Yoga Pavilion
73 Degrees (buffet breakfast and fresh themed buffet dinners)
Baan Huraa (Thai cuisine)
Origami (Japanese cuisine)
Dining by Design
Further dining options at sister island Anantara Dhigu Resort  
including  Sea. Fire. Salt., Terrazzo, Fushi Café and Aqua

Spice Spoons – Anantara Cooking School
Diving and Surfing
Deep sea and hand line fishing
Fitness centre, Tennis court, Volleyball, 
Badminton, Chess and Petangue
Swimming
Morning meditation and Yoga classes
Resident Medical Doctor
3 Nights | Over Water Bungalow | Halfboard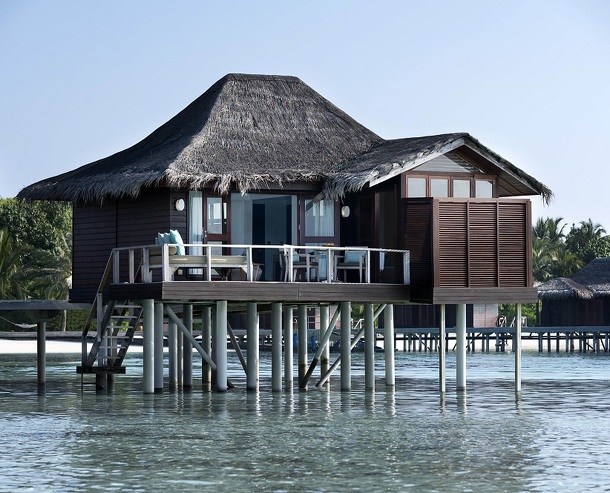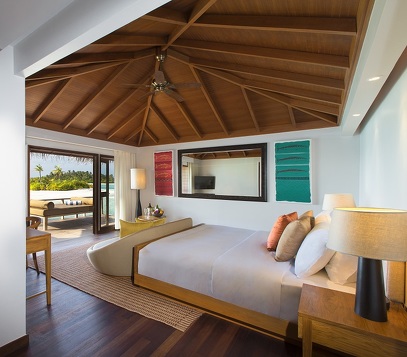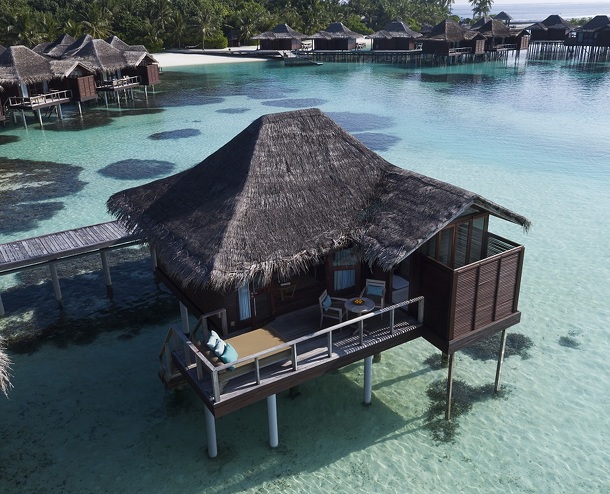 Anantara Veli Maldives' spacious 62 square metre Over Water Bungalows on a pristine stretch of tropical paradise come with hardwood floors and a coconut thatch roof combined with stylish contemporary décor. Indigenous fabrics stretch across your bed, while tropical flowers and jasmine scents float through your bathroom. Experience a serene, romantic beach getaway at our well-appointed Maldives bungalows, exclusively designed for young couples.
The private lodging's sun terrace gives each guest their own space to relax with direct access to the lagoon, and a day bed. Step inside to find a wealth of comfortable accommodation features including flat screen TV and high-speed internet access in each of our Maldives over water bungalows.
Over Water Bungalows feature:
Generous 62sqm bungalow
King size bed
Sun terrace with, day bed and coffee table
Flat screen TV and DVD player
Satellite flatscreen TV and DVD player
High-speed internet access
Mini bar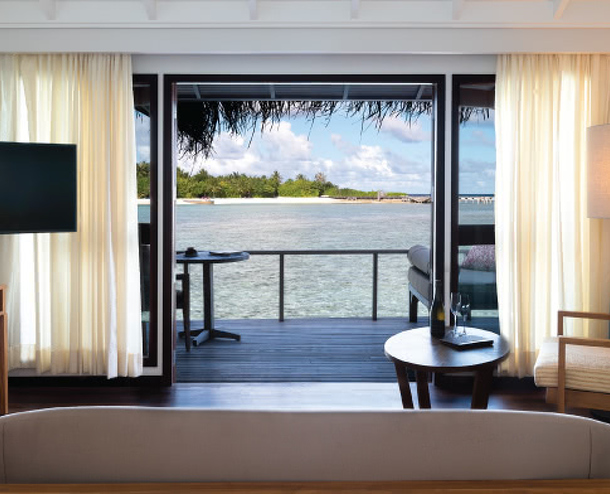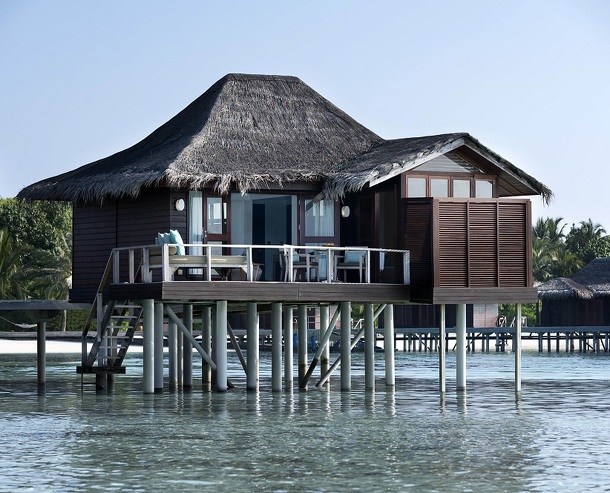 SUPERIOR OVER WATER BUNGALOW
Identical in size and interior to the Over Water Bungalows, the Superior category offers all the charm of the Over Water Bungalows with the added benefit of blissful seclusion and privacy. Recline to lagoon views and the sundeck offering the ideal space to unwind after snorkelling the coral gardens beneath. Perfect for a romantic vacation with each room offering warm decor that reflects the dreamy hues of the island's natural setting. Create your own personal experience, stay connected or disconnect totally in the privacy of your Superior Over Water Bungalow.
Superior Over Water Bungalows feature:
Generous 62sqm bungalow
King size bed
Sun terrace with, day bed and coffee table
Flat screen TV and DVD player
Satellite flatscreen TV and DVD player
High-speed internet access
Mini bar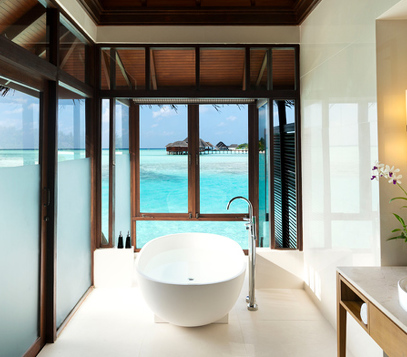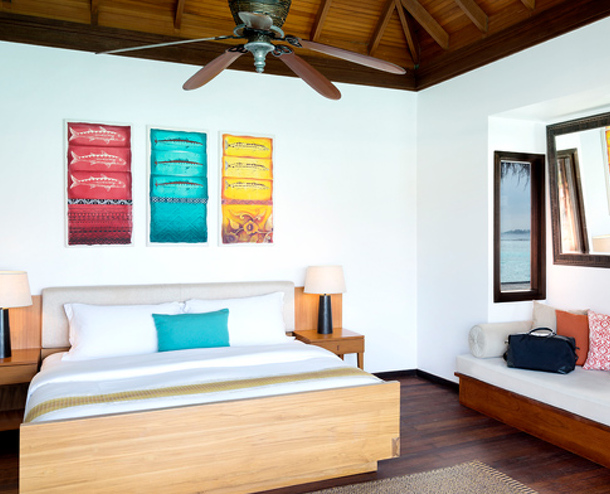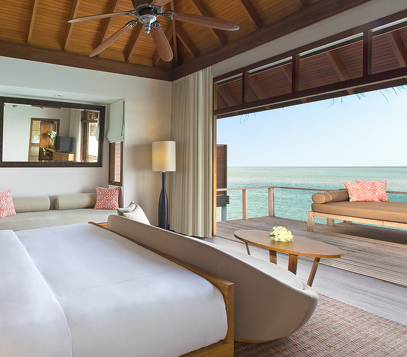 DELUXE OVER WATER BUNGALOW
The spacious 92 square metre Deluxe Over Water Bungalows at Anantara Veli Maldives Resort offer all the charms of island life coupled with comfortable accommodation. Enjoy a separate dressing area and exclusive outside double sun deck on your private Maldives overwater bungalow. Recline on your sun loungers that look out over the glorious turquoise waters of the expansive lagoon.
Every Deluxe Over Water Bungalow allows direct access to the lagoon, as well as an interior infused with a soft island design aesthetic. In-room facilities in these luxurious bungalows include flat-screen television, mini bar and high-speed internet access ensuring that you have both all the comforts of home and modern accommodation.
Deluxe Over Water Bungalows feature::
Spacious 92sqm over water bungalow
King size bed
Private double sun terrace with sun loungers, day bed and coffee table
Dressing area
Flat screen TV and DVD player
High-speed internet access
Mini bar
Coffee machine
Wine fridge
Semi open bathroom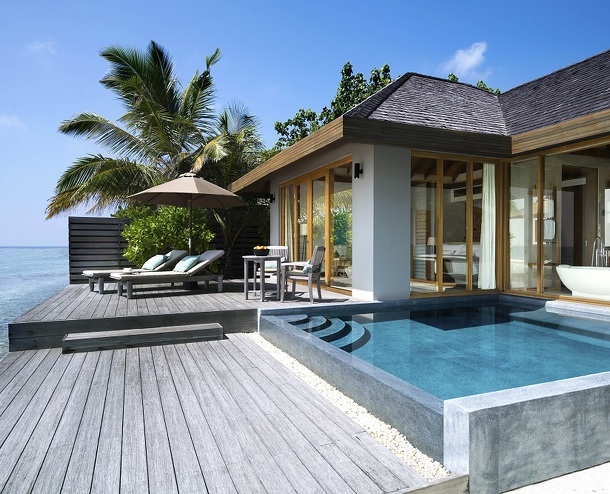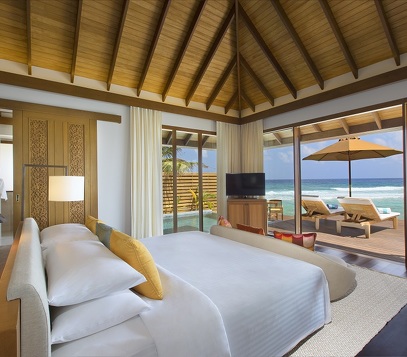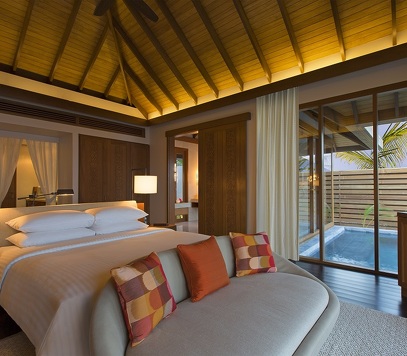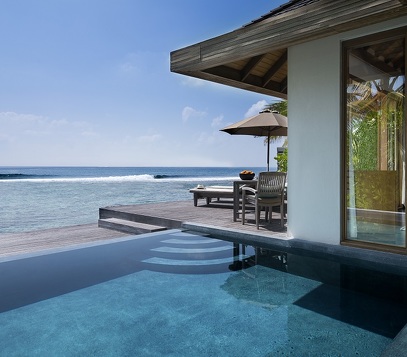 DELUXE OVER WATER POOL BUNGALOW
These idyllic romantically styled bungalows are poised directly above a turquoise lagoon. Slip straight from your deck into the azure waters below, or take a dip in your private plunge pool. Treasure the intimacy of an over water sanctuary that offers breathtaking views and a modern luscious design.
Unravelling 125 square metres of sumptuous space, Deluxe Over Water Pool Bungalows blend signature Anantara comforts with destination inspired design and all the comforts you desire. Relax in your spacious bedroom, where hardwood flooring lends a stylish feel. Sleep in a king size bed that is dressed in the finest linens. Sip a beverage from your personal in room bar and listen to your iPod as you laze on a lounger outside, admiring a panorama of jewel coloured waters meeting endless blue sky.
Deluxe Over Water Pool Bungalows feature:
Spacious 125sqm over water bungalow
Private plunge pool
Sun terrace with sun loungers
Separate bathtub and shower
King size bed
Flat screen TV
CD/DVD player
iPod docking station
Mini bar
Yoga mats
Tea and coffee making facilities
WiFi internet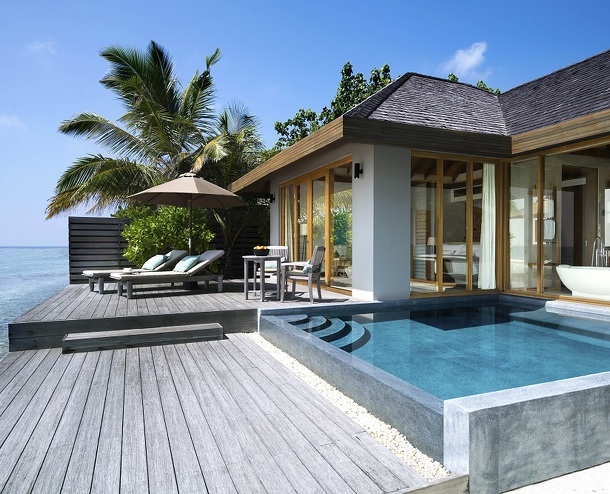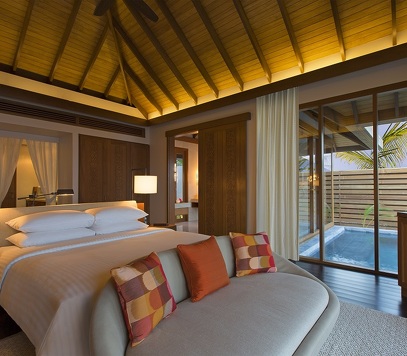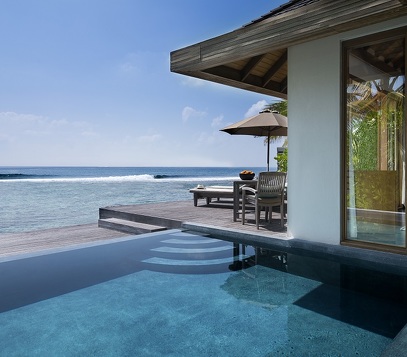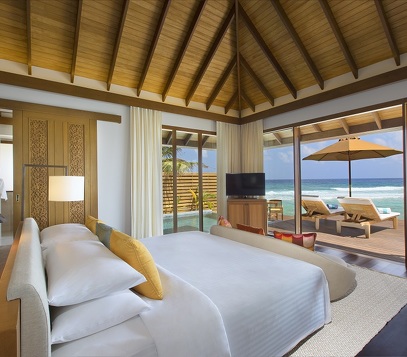 These remarkably luxurious and private bungalows occupy a secluded cliff edge and directly face the Indian Ocean.  Each Ocean Pool Bungalow offers a magnificent plunge pool accompanied by 125 square metres of inviting indoor and outdoor space, with beach and lagoon access only a short stroll away.  
Designed with hardwood flooring, island inspired decor and a wealth of signature comforts, these charming hideaways are charcterised by intimacy, natural style and breathtaking ocean panoramas. Sleep in a sumptuous king size bed that is dressed in the finest linens.  Step into your air conditioned bathroom to soak in a generous bathtub while playing your favourite iPod tracks.  Unobstructed views of jewel blue waters and rolling waves are admired inside through floor to ceiling glass doors.  Relish the same dramatic view outside, feeling revived by the ocean breeze.  Take to your veranda to bask under the sun on a lounger, replenished by a tipple from the mini bar.  Or refresh in your personal plunge pool in a tranquil world of your own. 
Ocean Pool Bungalows feature:
Spacious 125sqm
Ocean views
Private plunge pool
Sun terrace with sun loungers
Separate bathtub and shower
King size bed
Flat screen TV
CD/DVD player
iPod docking station
Mini bar
Yoga mats
Tea and coffee making facilities
WiFi internet
73 DEGREES
ORIGAMI
BAAN HURAA
DHONI BAR
DINING BY DESIGN
IN-VILLA DINING
FUSHI CAFÉ
TERRAZZO
AQUA BAR
73 DEGREES
Sink into the sand and enjoy a world of cuisine.
Follow the enticing aroma of freshly ground coffee and oven-hot pastries to this idyllic oceanfront setting. A lavish buffet breakfast offers exotic fruits and juices and live cooking stations from East and West.
As sun sets, return to 73 Degrees for a fine vintage from our extensive wine cellar, then enjoy each evening's themed buffet – Maldivian favourites, fresh seafood, handmade pizzas and pastas.
ORIGAMI
Enjoy the dazzle of live teppanyaki chefs slicing and dicing.
Japanese food reimagined in an island setting. Begin your evening with fresh sashimi and sushi creations, highlighting local catches of yellowfin. Enjoy Hokkaido scallops straight from the robata grill, or signature dishes such as thinly sliced seabass garnished with yuzu, truffle oil and salmon roe.
For an entertaining evening, choose a teppanyaki menu of Wagyu beef and Alaskan king crab which is sliced, diced, sizzled and served before you.
BAAN HURAA
The many flavours of Thailand explored over water.
Walk out over the lagoon and into a traditional teak house on stilts, magically lit with a sunset glow. With dishes designed to be shared as in Thailand, choose from an array of delicacies from across the kingdom – sour spicy salads from the Northeast, hot coconut curries from the South, beloved dishes from the Central Plains accompanied by fragrant jasmine rice.
Cool the palate with traditional desserts such as sticky rice and mango or bananas poached in coconut milk.
DHONI BAR
Drink up the vibrant atmosphere and snack all day.
Soak up the sun's blissful rays in a casual poolside setting. Enjoy all-day refreshments of iced coffees, smoothies and mocktails – as well as an array of gourmet sandwiches, paninis and wood-fired pizzas to whet your appetite.
Grab your favourite flavour as the ice-cream trolley makes its rounds. As sun sets, enjoy a glass of Champagne as you browse an extensive menu of signature cocktails as well as old-time classics.
DINING BY DESIGN

An experience all your own, indulge in romance by design.
Follow the torches to an intimate table setting for two underneath a canopy of stars or a private faree tent. Dig your toes into the sand, as fresh grilled lobster is served on your dugout table by your personal chef.
Savour a wine tasting session by the lagoon amongst friends, or set sail for the day to a deserted island to enjoy the catch of the day. On land, at sea, explore magical bespoke experiences brought to you by Anantara.
MENU HIGHLIGHTS
SIGNATURE SEAFOOD DINNER 
A platter of freshly shucked oysters on ice with lemon, vinaigrette and layered pumpernickel bread; yellowfin tuna tartare with shallots, hints of Maldivian chilli and avocado; and slow-poached king prawns in cocktail sauce.
A mini-barbecue of seared diver scallops, flame-grilled scampi, garlic- and ginger-perfumed king prawns, local lobster grilled with garlic butter, and Maldivian spice-rubbed snapper fillet accompanied by dressings and sauces, tossed mixed salad, jasmine rice and roast heirloom baby vegetables.
Local tuna curry served with papadum, chutneys and coconut sambal.
Barbecued pineapple with vanilla beans and mascarpone cream.
SURF AND TURF 
A platter of Niçoise-style salad with potatoes, fine beans, onions, Kalamata olives, heirloom tomatoes and grilled octopus; San Daniele prosciutto with fresh figs; and grilled watermelon, mint, and feta salad with lemon and EV olive oil.
A mini-barbecue of Australian Black Angus fillet, Saltbush lamb chops, garlic-marinated calamari steaks, locally caught yellowfin tuna, king prawns and blue swimmer crab accompanied by dressings and sauces, tossed mixed salad, jasmine rice and roast heirloom baby vegetables.
Mango clafoutis with vanilla ice-cream.
A VEGETARIAN SURPRISE
A platter of grilled polenta, fig, and rocket salad with EV olive oil and aged balsamic; salad of couscous, pumpkin, dried apricots, sultanas, and saffron-honey dressing; and stacks of buffalo mozzarella, home-grown basil and heirloom tomatoes.
A mini-barbecue of white asparagus cooked sous vide and finished on the charcoal grill; homemade pumpkin ravioli on roast heirloom carrots; baked potato with rich sour cream, chopped spring onions and crisp garlic flakes; and portobello mushroom with fine herbs, Mediterranean vegetables and raclette cheese.
Caramel roast peaches with white chocolate mousse, blueberries, and star anise jus.
IN-VILLA DINING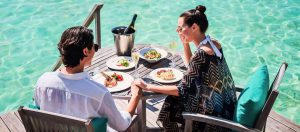 Enjoy an array of cuisines from around the world.
Savour dishes for every appetite in the comfort of your private bungalow. Allow us to bring signature dishes from each of our restaurants right to you.
A selection of zesty Thai dishes to be shared by the pool. Modern Italian or Japanese cuisine overlooking the cerulean ocean. Morning wake-me-up to midnight munchies, let us cater to your cravings. Our chefs will be happy to tailor to any specific dietary requests.
FUSHI CAFÉ
Greet the morning with a sun-filled gourmet breakfast.
Enjoy sunrise views over the lagoon at breakfast, and the intoxicating aroma of freshly ground coffee and straight-from-the-oven pastries. Choose from a lavish buffet of international favourites with live cooking stations, and an array of tropical fruits and juices.
By night, savour an extensive buffet with changing themes – Indian Ocean, Japanese, Chinese, Italian – for a culinary experience that's always fresh.
TERRAZZO
Romantic Italian dinners in a loft venue overlooking the Indian Ocean.
Begin your evening with a sunset selection of bruschetta and a glass of crisp wine. Sample fresh seafood cooked in traditional Italian flavours – line-caught tuna carpaccio drizzled in extra virgin olive oil, handmade lobster ravioli with a lemon butter sauce.
Enjoy a multi-sensory, private dining experience in the Wine Loft where our Wine Guru will help you pair dishes to grapes from Italy's varied regions.
AQUA BAR
Drink up the vibrant atmosphere and snack all day.
Soak up the sun, cool off in the shade, or swim up to the bar for chilled refreshment. Enjoy a light lunch, small bites throughout the afternoon and drinks all the way through twilight. Re-energise with a selection of tropical juices, fine teas and iced coffees. Find the perfect seat to watch the sunset with a cocktail in hand and live music playing.
Located poolside, Aqua also serves to the sun loungers and our popular ocean hammock.
Beachside Yoga
Gain physical poise and mental peace through ancient exercises drawn from centuries of traditional South Asian wisdom.
Yoga for beginners is available from the professional instructors beachside while more seasoned aficionados can take it up a notch with a private session – one of the signature Maldives resort activities.
Boutique
You may be thousands of miles away from it all, but the boutique on Dhigu brings the world to you, with the bare necessities and exotic goods and handicrafts from across Asia and the Indian Subcontinent.
Cooking School
While staying at Anantara in the Maldives, you will be treated to an array of inspired culinary creations. Why not learn the tricks of the trade with a cooking class from the resident master chefs? Learn to recreate traditional Maldivian or Thai and fusion dishes to impress your friends back home.
Dhoni Kids Club
Open for children from the ages of 3 to 12, the Dhoni Kids Club keeps the youngest guests entertained during their holidays with an action-packed programme featuring a variety of beach and outdoor activities, creative crafts and games that are fun, educational and culturally enriching. All are under the supervision of the Kids' Coordinator. Children aged three or under are welcome when accompanied by an adult. Childcare services are available for a fee.
Fitness
The fitness centre and gym is equipped with everything you expect to keep you looking and feeling good.
Rejuvenate your body as you work out alone or with your personal trainer.
Library
No need for sunblock in the stylish showpiece library, where you can sink into a plush armchair and enjoy a new novel or catch up on all that is going on back in the 'real world' on the computers with high-speed Internet.
Morning Meditation
Clear your mind and achieve a sense of heightened wellbeing with gentle stretching and meditation to start off your day.
At the guided meditation sessions on the beach, you'll catch the island as it awakens.
Draw inspiration from the gorgeous island surrounds. 
Swimming
Slide into the tranquil waters of the stunning freshwater infinity-edge pool situated right on the beach's edge. Gaze out across the expanse of an aquamarine sea as you float, soak or splash your worries away. Protected by outer reefs, the shallow waters of the large lagoon offer an ideal spot for wading, floating or a relaxed swim.
Other activities
Tennis 
The floodlit tennis courts allow you to continue with a doubles match even after the sun sets.
The fitness centre staff are at hand to provide lessons for beginners or a little bit of a challenge if you're looking for a partner. 
Volleyball and Badminton 
Feeling waterlogged? Landlubbers can always take part in a pick-up match of volleyball or badminton on the beach – just let the entertainment team know and they'll provide the nets and equipment and turn a strip of beach into your court.
Island Hopping 
Discover some of the other distinctive jewels of the Maldives. You might be surprised to see the many different forms paradise can take. Tour the atoll and explore the daily life of fishermen. Shop the way the locals do. Get up close and personal with marine life.
Island Picnic 
Spend an afternoon as Robinson Crusoe (with a few more luxuries) and live out your desert island daydreams.
A tiny uninhabited island offshore in Anantara's lagoon is your playground for the day. Frolic in pristine waters, explore stunning reefs and enjoy a specially prepared picnic on white sands.
Malé Excursions 
There is more to the bustling Maldivian capital than just the airport. Malé offers distinctive architecture, local markets, tranquil mosques and the regal presidential palace. Immerse yourself in the local culture at the National Museum and partake of some of the country's authentic local delicacies. 
Sunset Cruise 
Cruise a tranquil turquoise lagoon in unadulterated luxury. Sink back into world class comforts and savour pure indulgence with a personal wine cellar, bar and chill-out area on board.
Listen to the melodic rolling of the waves, or play your favourite sunset beats from the pre-loaded iPod from the ultimate in Bose technology.  Unwind completely as the champagne in your glass takes on the tints of the setting sun, and as it dips behind the darkening horizon, wine and dine underneath a star-strung sky.  Spend a night cradled by the gently rocking waters of the dazzling Indian Ocean, revelling in the serenity and seclusion of the sea.
Sunset Handline Fishing 
Try your skills at handline fishing and experience the glittering waters from a local's point of view, aboard a traditional sailing dhoni. This natural technique uses no equipment beyond a single fishing line, held by hand and dropped to the floor of the ocean reef. Wait for the reef fish to bite – a catch is almost guaranteed. Better yet, take your catch onland and the chefs at Fuddan grill will prepare it to your liking the very next day. 
Aquafanatics
The people on Veli are fanatics about water – there is an incredible range of aquatic activities you can enjoy on the Indian Ocean at Anantara Resorts. They have many exhilarating high-speed adventures. Propel across the water with wind-powered high intensity sports or catch a magnificent fish for your table on an adventurous fishing trip. Parasail with a breathtaking bird's-eye view of the stunning islands below you and experience sky-scraping excitement.
They also offer exciting trips and excursions  around the Maldives to discover the fantastic marine life and top-side beauty of this amazing archipelago. Snorkel spectacular reefs with the resident marine biologist. Visit deserted and local islands on a voyage of discovery.
Looking for more sedate water-based activities? Why not rent a kayak and paddle gently around the shallow, protected lagoon or around your over water bungalow? Or how about relaxing in the sun as your captain takes you on a private journey by catamaran?
Whether you are looking for speed, excitement, relaxation, marine beauty or an opportunity to create your mind's private vision of paradise, if it is on the water, then Aquafanatics can provide it for you.