Nestled within its very own private lagoon, Huvafen Fushi, the Maldives' most stylish retreat – which literally translates as 'Dream Island' – is a waking dream, showcasing the world's first underwater spa treatment rooms and the most spacious accommodation in the Maldives.
3 Nights | BEACH BUNGALOW WITH POOL | Halfboard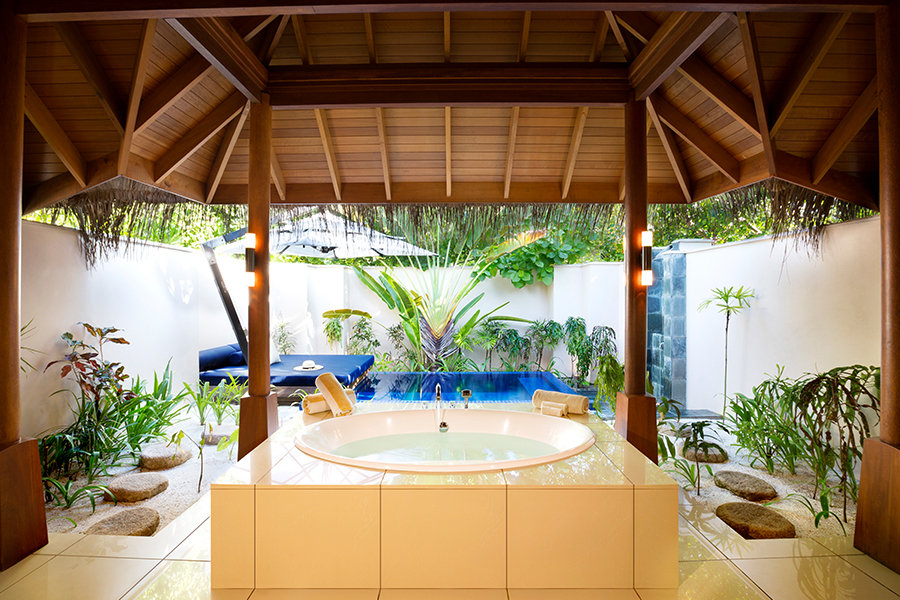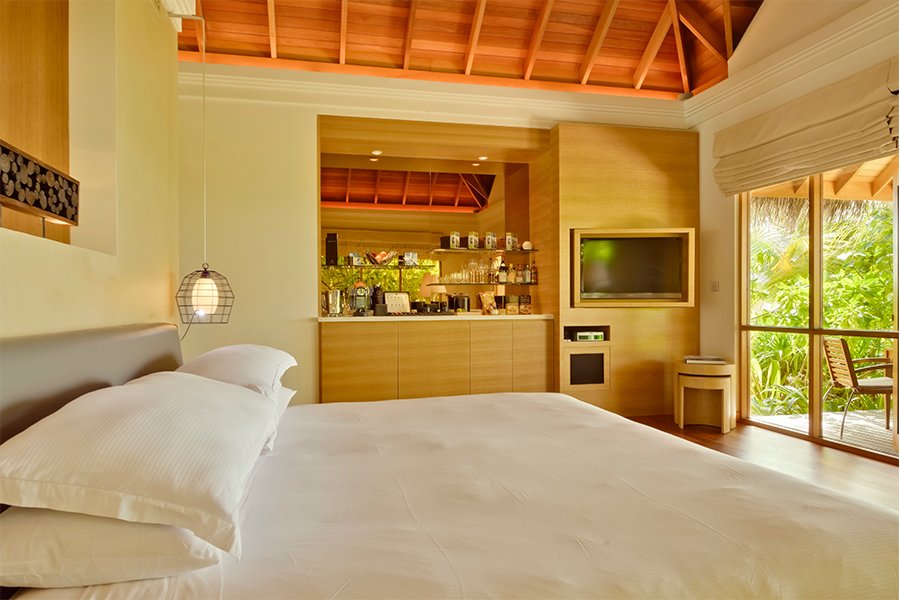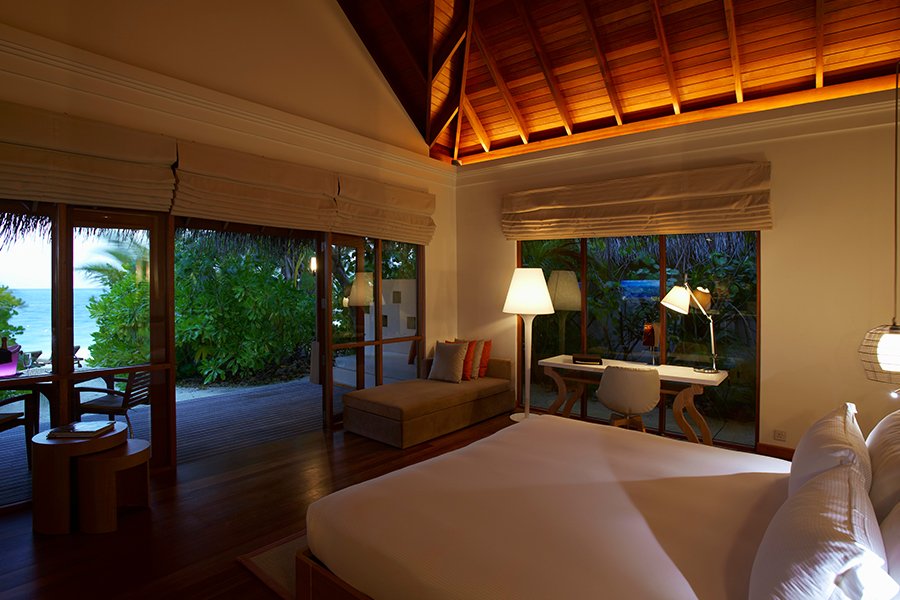 Exquisite Beach Bungalows line a pristine lagoon. From the daybed on your sumptuous deck, you can survey the beach as you warm your skin in the sun's rays. From the plunge pool or the oversized bathtub, you can take in views of the lagoon.
Your room's interior is equipped with every modern indulgence. Each detail a revelation. The dancing crema of the morning's first espresso. Gentle waves lapping the shore beyond your private deck. Time moves slowly when you surrender to the moment. Another alluring day begins at Huvafen Fushi.125sqm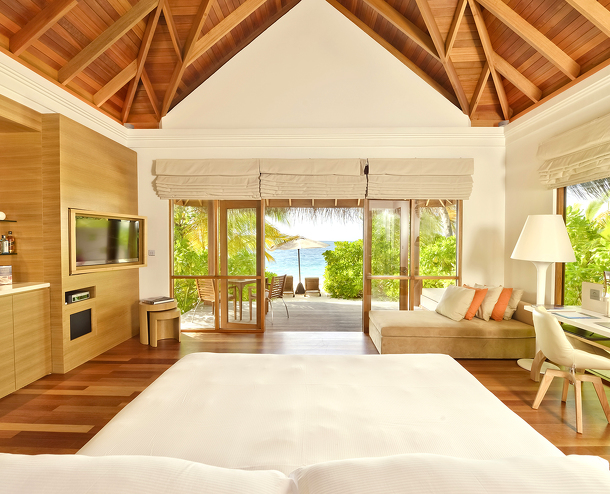 Facing the pristine lagoon with direct access to the beach, the Beach Bungalows offer overhead fan, espresso machine, private bar, L'Occitane amenities, day bed, safe, IDD telephone – Bang & Olufsen cordless telephone, 32″ plasma screen, Bose surround sound system with DVD and a sumptuous deck overlooking the beach with daybed and dining table. The private courtyard houses an oversized bath, fresh water plunge pool, waterfall shower and outdoor daybed.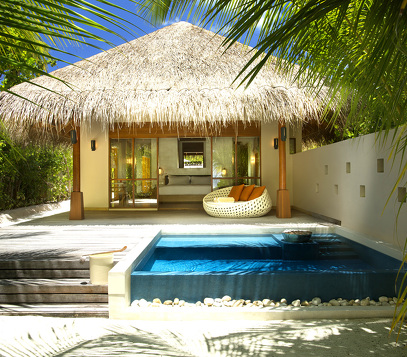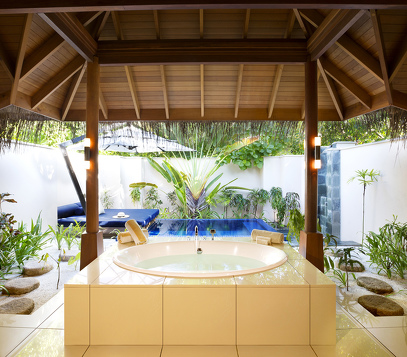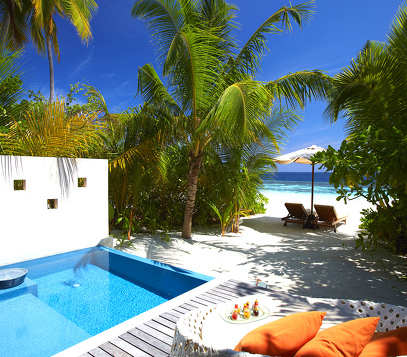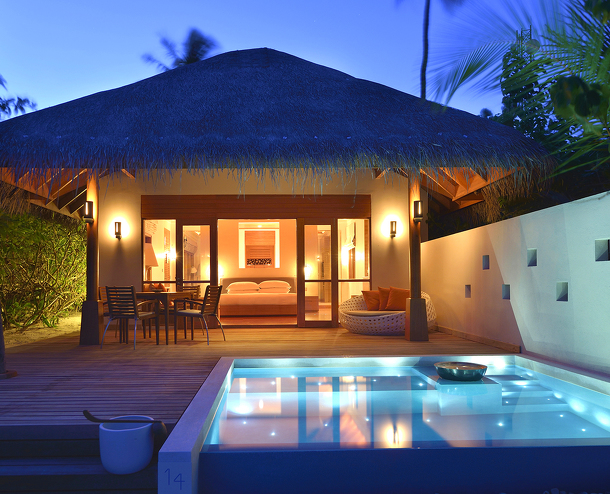 In addition to the offerings of the Beach Bungalows, the Deluxe Beach Bungalows have a much larger outdoor living area. The front timber deck is ideal for lying back and watching the flying fish. Laze on your day bed or sun loungers while enjoying the tropical scenery. Out in your private courtyard a larger plunge pool is perfect for relaxing. These bungalows offer extremely spacious living with an array of exquisite fabrics and an even more selective range of designer furnishings.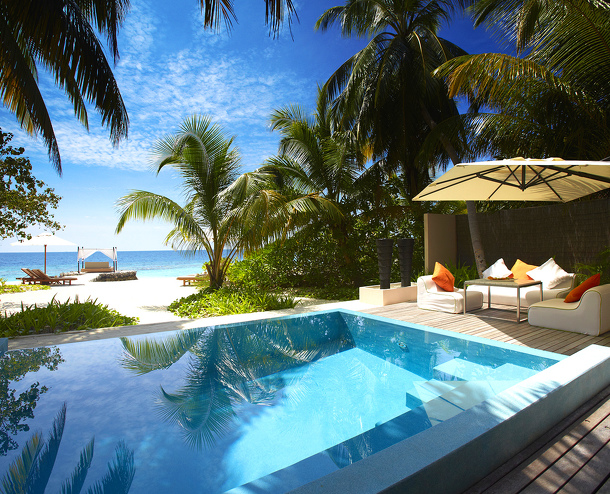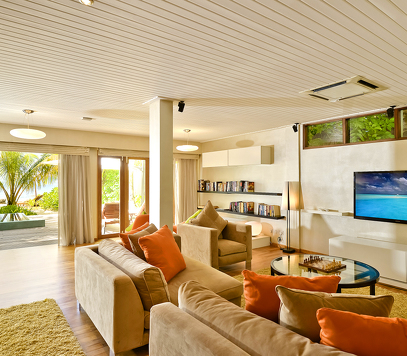 THREE BEDROOM FAMILY POOL RESIDENCE
Slip past the palms and come inside. A secret sanctuary. A garden enclave in a world of its own. Your inner child enters first, into a room filled with games—videogame consoles, a pool table, table tennis. Sophistication slinks in next: The foyer opens to a living room and upper floor filled with high-tech toys, from individual iPods loaded with tunes to plasma screens to DVD players. Indulge your appetites with a fully outfitted kitchen, walk-in pantry, wine fridge and two mini-bars. Outside, a private Eden awaits. Plunge into your private pool and let the ripples douse the deck. Hear the sizzle of the barbecue grill. Or just lounge, enveloped in cushions, as the sun kisses your skin.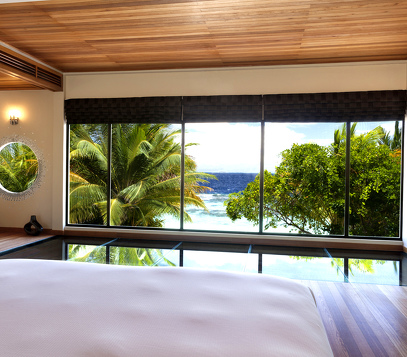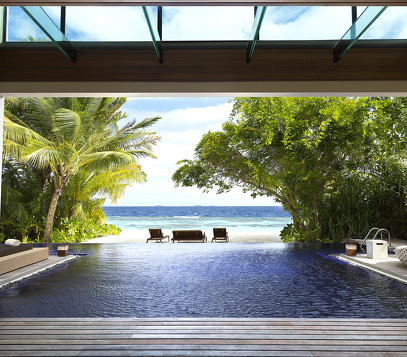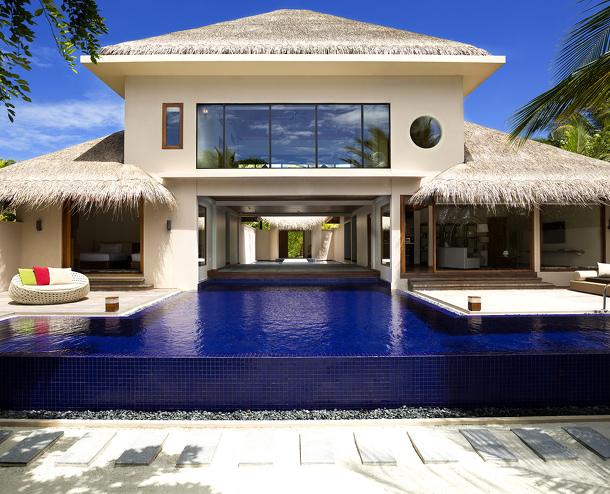 TWO BEDROOM BEACH POOL RESIDENCE
Pad down the wooden jetty, feeling the warmth of the tropical sun. Each plank takes you one step closer to a private paradise.Two hundred metres out to sea, discover a world free of boundaries. Your private infinity pool flows from the living room to the deck, a glass wall marrying indoors and out. Watch the sun drip into in the Indian Ocean from the outdoor Jacuzzi or the individual decks of each of two bedrooms, or retreat to the centrepiece of your open-plan master bedroom, an infinity-edge Kohler bath the fills from the ceiling.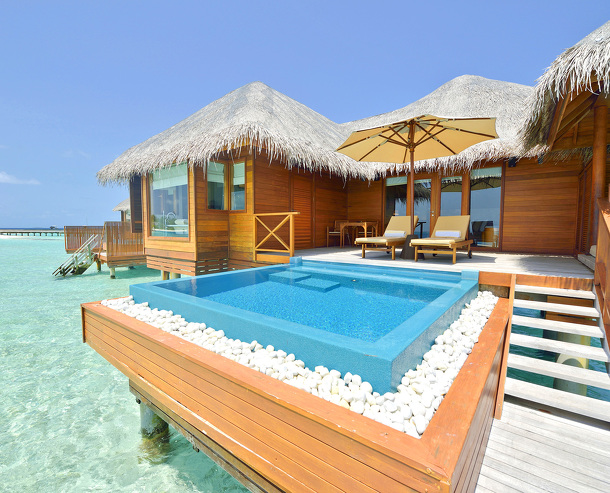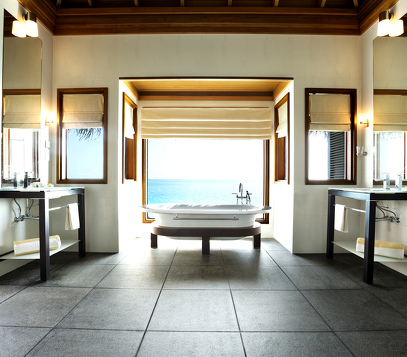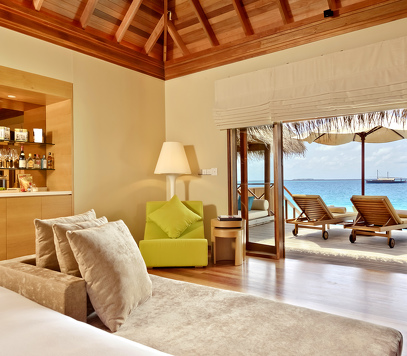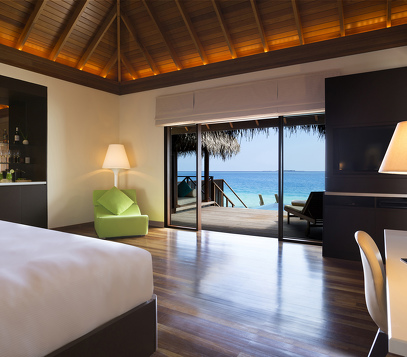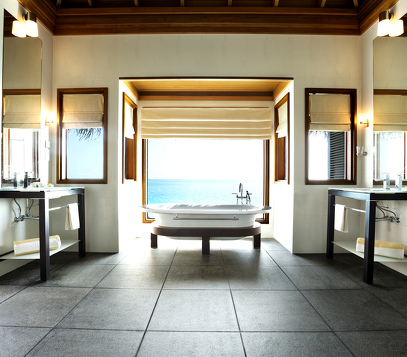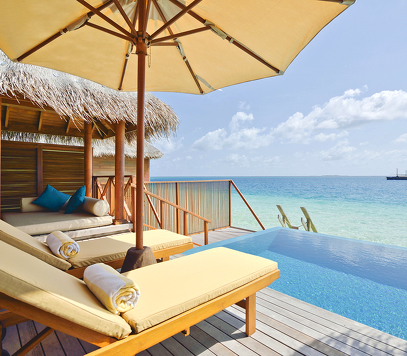 These villas with their split-level layout lead into the tropical waters and feature a private deck with sala and a separate sun bathing deck with panoramic views. Your Bose surround sound system with its 40″ plasma screen has speakers throughout. Listen to your favourite tunes in your freshwater pool or in your free standing bath cantilevered over the Indian Ocean.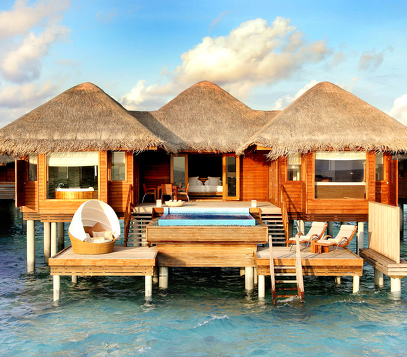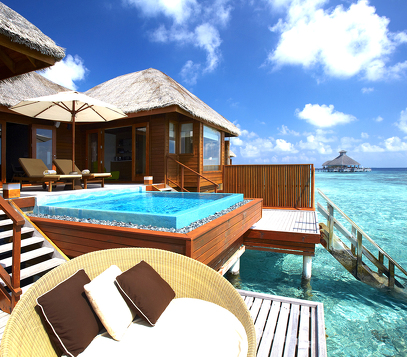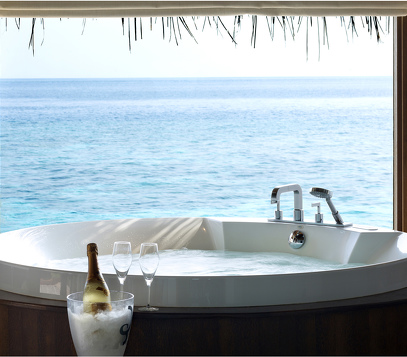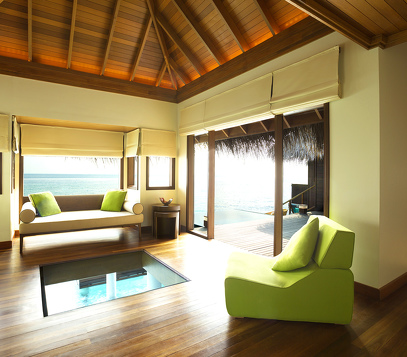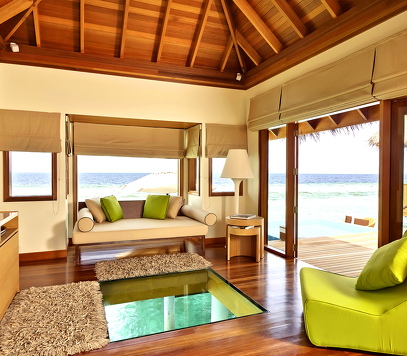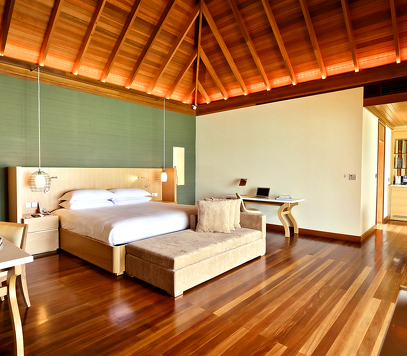 DELUXE SUNSET OCEAN POOL VILLA
The aptly named Ocean Villas look toward the vast Indian Ocean for miles and miles. Exploring your three-tier deck, you find a freshwater infinity pool, dining area, alluring day bed and sunbathing terrace. The living room, featuring a 50″ plasma and Bose surround system, is easily transformed from state of the art theatrette to a soothing massage room with glass floors to view the pristine waters below. Post massage, sink into your oversized jacuzzi bath and lose yourself in the endless shades of blue stretching toward the horizon.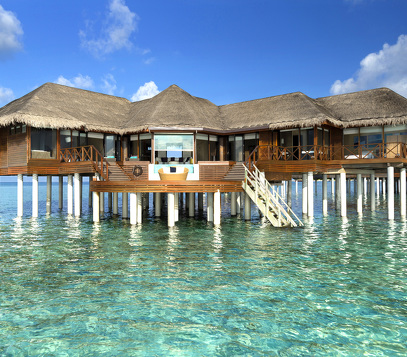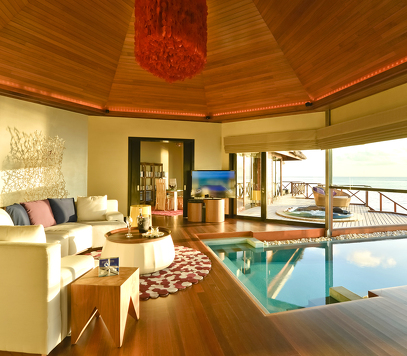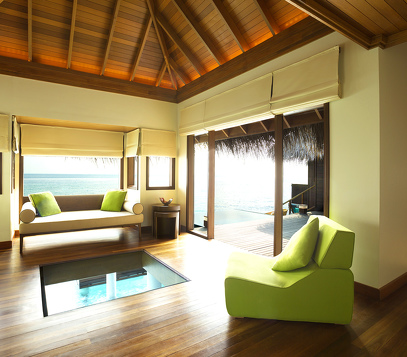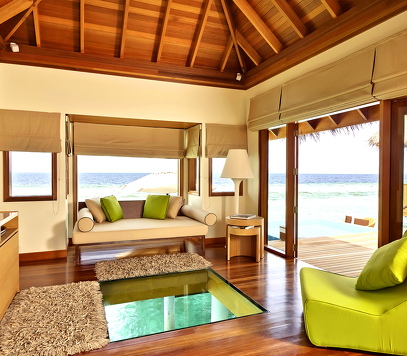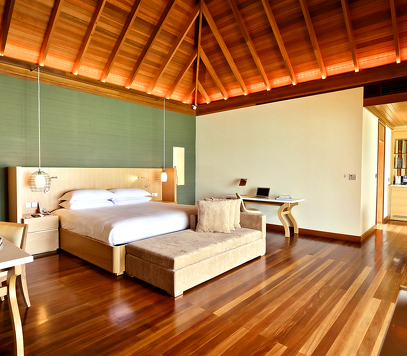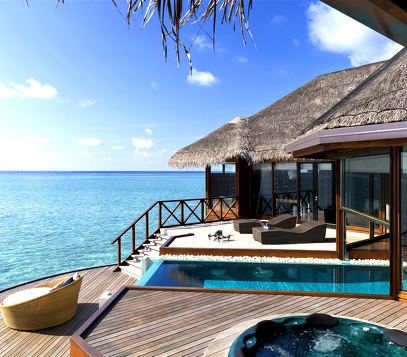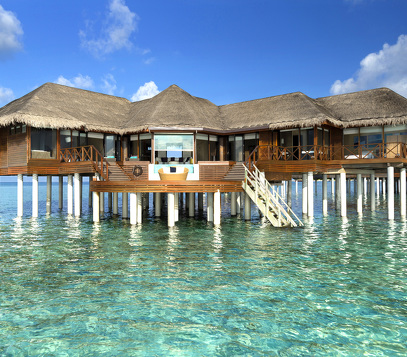 TWO BEDROOM OCEAN POOL RESIDENCE
Set 200 metres out over the Indian Ocean, these stunning Residences face the sunset and are the last word in pampered luxury. Privacy is assured as access to these wooden walkways is only to Pavilion residents. Your private fibre-optic lit infinity pool flows from the indoors out and blends naturally with the horizon. The master bedroom is open plan. An infinity edge Kohler bath that fills from the ceiling forms the centerpiece, while a hydro Body spa shower is pure indulgence. A second bedroom with 32 inch plasma and direct access to its own outdoor deck completes each Pavilion. A dedicated Thakuru is on call 24 hours.
Celsius
UMbar
Raw
Salt
Vinum
Fogliani's
Destination Dining
Celsius
Open and easy. Outdoor or indoor. Sample Celsius by candlelight or in the bright Maldivian sunshine, refreshed by cool ocean sprays. Luxe-but-laid-back dining on a white sand floored deck branching out over the lagoon.
UMbar
Vodkas clear as the Maldivian seas. Tropical juices, fresh coconut. UMbar at the water's edge, overlooking the breathtaking infinity pool.
Raw
Innovative 'Spa' and 'Raw' cuisine . For those who care about their bodies yet crave exquisite taste. Original. Creative. Natural. Restaurant and juice bar set over the water.
Salt
A backdrop of transparent water by day, reflections of moonlight in the ocean at night. Inspired menus drawing on the array of sea life that swims beneath you.
Vinum
Underground wine. Deep in the cool ground. Immerse yourself in all things vinum. A cave harbouring a collection unmatched by any other resort in the world.
Fogliani's
Traditional wood-fired pizzas beneath a canopy of palms. Fresh antipasti. Casual shoreside dining. 
Destination Dining
Private dining experiences available nowhere else. Beneath the stars on a rock island with a private table for two. Underground style in the wine cellar. Or 24-hour dining in the intimacy of your bungalow.
Diving
Break the surface of an endless blue. A liquid world of pulsating life. Exotic creatures flash by.
A colour spectrum you have never before seen. With Huvafen Fushi Dive and Water Sports, discover the underwater spectacle of the Maldives during the daily dive programs.
Beginners can have their first glimpse of a whole new underwater world of fish and coral landscape with the "Discover Scuba Diving" course. Already tried diving before? Go on and complete your diving license – the resort offers scuba diver and open water diver certification courses that take just a couple of days.
Kids as young as 8 can search for their own Nemo with the "Bubble Maker" program, while those children 10 years and older can pretend to be Nemo on the "Junior Scuba Diver" or "Junior Open Water Diver" courses.
For certified divers, choose between morning double tank and afternoon single tank dives, night dives, as well as a wide variety of advanced and specialty courses.
Take your diving to the next level with one of the many speciality courses, including those with a focus on: nitrox, underwater digital photography, DPV (diver propulsion vehicle), underwater naturalist, drift diver and night diver.
Explore the atolls, Maldivian style – take a private half-day or full-day diving adventure onboard a unique, but traditional luxury dhoni or on one of the comfortable fibreglass boats. Craving more personalised attention? Private courses are available for those who wish to have an exclusive and intimate diving experience with their own instructor.
Safety while diving is an essential factor for any great diving experience, and the island maintains an unrivalled safety system. All staff members are trained in first aid, and all boats are outfitted with oxygen kits, first aid kits, GPS, mobile phones, torches, safety balloons and life preservers, ready to handle any emergency,  should one arise. For added peace of mind, the dive team also offer the DAN Maldives dive insurance for the duration of your stay (a small contributory fee to DAN Maldives applies).
Dive with ease, above and below the water. A full dive valet service comes with all of the dives, so you need never handle your equipment except while diving. Relax in comfort before and after your diving adventure with post-dive refreshments and ample facilities. Furthermore, the multi-lingual dive team speak most European languages and Japanese.
Big Game Fishing
Snag a barracuda at dawn, and pursue a sailfish in the afternoon. In between, hunt for wahoo, mahi mahi, tuna, and trevally. Take on the challenge – the Indian Ocean is waiting for you. Also on offer are sunrise big game fishing from 6:30 – 10:30, half day trips from 14:00 – 18:00 and full day trips for 8 hours.
Sunset Fishing
Looking for some nautical excitement, after hours? Catch your own supper with the Maldivian technique of hand-line fishing. Wednesday's and Saturdays from 18:30 – 20:30, or private any day.
Speed Boat Rental
Enjoy the freedom and explore the beautiful seascape around Huvafen Fushi in a private speed boat with its own captain, and crew. The Swan 20 speedboat, parasailing boat and fishing boat can all be chartered by the hour.
Sand Bank Snorkeling Excursions – Speedboat & Catamaran
Have you ever wished of having your own little island? The small Sand Bank can fulfill your dream, whether it is going snorkelling with the speedboat and stopping over there or sailing the beautiful reefs with the catamaran and relaxing there for a while 'til you come back.
Other Activities
Jet Skiing
Adrenaline pumping. Find high-speed fun on the open sea with the exhilarating Wave Runners.
Seabob
Not your typical sea-scooter! Experience life at a dolphin's swift pace with this underwater rocket. A 15 minute introduction teaches you how to have the maximum fun with the Seabob. Afterwards, test your bravery and hang on tight when your underwater speed reaches up to 20 km/h.
Parasailing
Get a bird's eye view of the stunning Maldives – and fly like one, too, while you parasail over Huvafen Fushi. A thrilling ride and great photo opportunities.
Water Skiing, Mono Skiing, Wake Boarding, Knee Boarding and Fun Tubes
Skimming the waves, your breath taken away. Exhilirating rides and lessons available for those guests who love to speed over the water in a variety of ways.
Catamaran, Windsurfing and Kite Surfing Lessons
Explore the ocean. Slice through the waves on a catamaran. Kayak along the reef. There are beginner courses, private lessons, refresher courses, advanced courses and international certifications for several different wind sports.
Snorkeling
Surround yourself in blue. There are a wide variety of snorkelling activities: house reef snorkelling for beginners, DPV guided snorkel trips, snorkel hopping by speed boat, snorkelling with manta rays (in season), and more.
Complimentary Activities
Jump in and enjoy the warm waters of the Indian Ocean. Snorkeling equipment and all non-motorised water sports are provided free of charge. Float at the intersection of water and sky, and try one of the many different kayaks – there are pedal kayaks, paddle kayaks and even transparent glass kayaks for observing the creatures below. If you have a license and know how to windsurf, catamaran sail or kite surf, then feel welcome to use the high-quality equipment. If not, satisfy your curiosity: take a couple of lessons for a small fee and discover your inner sailor or surfer.
Journeys
Sunset cruises. Guided snorkelling by the resident Marine Biologist. Dolphin cruises. Island discovery. Night fishing. Discover Malé. Explore the islands and seas around Huvafen Fushi.
Guided House Reef Snorkeling
Be guided by the Resident Marine Biologist as she takes you to the best spots and brings you closer to the marine animals. Before the snorkel learn about the marine life you will encounter through a brief presentation at The Lair.
Monday 11:00 – 12:30 – Wednesday 11:00 – 12:30
Guided Coral Garden Snorkeling
Famed for its underwater treasures of vibrant corals, hundreds of schooling fish and reef sharks, the Resident Marine Biologist will introduce you to the animals you will encounter and guide you to all the spots as you watch and learn in amazement about the underwater life. Plates of delectable's will be served on board. Advanced snorkellers encouraged.
Saturday -14:00-17:00, Tuesday – 10:00-13:00
Night Snorkelling 'CSI Marine'
Get a chance to encounter marine life on the House Reef that does not appear in daylight. It's mesmerising to watch feeding corals while they extend their polyps to catch plankton and to observe the way micro marine life glows when excited. 'CSI Marine' allows you to experience underwater fluorescence with a blue flashlight that uses the latest in high intensity LED technology.
SpaQuarium
Discover underwater marine life at night and you'll see hunting jackfish, lionfish and coral polyps catching plankton. Sip on Champagne and nibble on fruit skewers while the Resident Marine Biologist takes you down to the SpaReef. All this without getting wet!
Friday night 21:00-22:00
Adopt your own coral and leave a legacy behind!
About 70% of all Maldivian shallow water reefs were bleached in 1998 and since then, the government and its people have started to assist the reefs in recovery and to create more awareness on how to protect them.
Huvafen Fushi started the coral regeneration program in 2007 and has since transplanted over 1000 corals to its House Reef. Make a difference and learn more about the project from the Resident Marine Biologist while snorkelling with her to the nursery where you pick, name and cultivate your very own coral. A certificate and follow-up images are provided afterwards.
Discover Malé
A day in Malé to satisfy your curiosity for a piece of Maldivian culture and history, tour the city with its legendary fish market and beautiful mosque. Wander by the Presidential Palace and finish your adventure with local crafts and souvenir shopping.
Wednesday – 14:00-17:00 – Sunday – 14:00-17:00
Sunset Cruise
Watch the colours of the evening sky dance on the waves, while you sip Champagne, and nibble canapés while on board the yacht.
Monday and Friday – 18:15 – 19:15
Dolphin Cruise
Come on board for an outing to remember and witness these spectacular dolphins jumping and gliding in their natural habitat, ending the afternoon by sailing into the sunset.
Sunday 16:30 – 19:30
Sunset Fishing
For centuries the Maldivian people have mastered the art of line fishing. The tale goes that the big fish bites at sunset. So why not try your luck?
Wednesday and Saturday – 18:30 – 20:30
Big Game Fishing
Need some adrenaline and excitement? How about big game fishing? Take on the challenge – The Indian Ocean is waiting for you.
Scenic Photo Flights on board the Maldivian Air Taxi (15 minutes)
Glide above the Maldivian atolls to capture a bird's eye view of the unspoiled islands.
The Lair
Retreat to The Lair, the island's spacious library-lounge. Laze away the afternoon or connect to the outside world with the internet and satellite TV.
Yoga in the over-water pavilion . A work out in the gym.
Wine tasting.
Beach volleyball. An afternoon in the infinity edge pool. Or DVD movies on your plasma screen TV.
Lime Spa
"Give us your sore, your tired, your huddled masses yearning to breathe free so that we may rub, soothe, soak, heal, treat, pamper and otherwise restore to a blissful state."
In a Lime spa you are invited to drop your robe, cares, guard and anything else that has been weighing you down. In a Lime spa you are invited to try something different, fresh and frankly, unlike you.
Come out of where you have been
Come out of what you know
Come out of your shell.
6 over-water treatment rooms, each with its own glass floor.
The world's first underwater spa which offers 2 double rooms and a separate relaxation area designed specifically for the best vistas of the surrounding sea life.
Health Exchange where the resident naturopath offers wellbeing consultations using the latest techniques in haemaview live blood analysis and iridology.
Relaxation area spread over two floors with Aroma infused steam room, sauna, ice room, high tech rain shower, boutique, over water yoga pavilion and gym.
A first in the Maldives – salt water floatation pool otherwise known as a Lonu Veyo – known for its therapeutic and healing effects.
Spa and Yoga guru retreats year round.
Raw – innovative spa cuisine restaurant.
Must Have
Intentions – The six Intentions are vibrant energy rituals capturing the infinite potential of the earth's elements and are based on colour and mood enhancement.
Wellness – Stressed, tired or simply curious. The wellness section of the menu embraces a 'keep it real' philosophy and our resident Naturopath provides in-depth wellness consultations using cutting edge technologies to support the guest with their lifestyle choices. Haemaview live blood analysis, iridology, reiki, shirodhara, reflexology, and naturopathic facial therapy are some of the treatments on offer.
Underwater – The signature massage which is performed underwater is the Unite Me – Crystal Ritual. Crystal is stillness, unity and authenticity. Embrace the essence of Maldives with indigenous island coconut, lime and mineral offerings that create the basis to this authentic and soulistic experience. The zesty exfoliation prepares for the steaming lime mineral poultice. Local virgin coconut oil island wood massage completes and unifies our organic self.