Hurawalhi is an enchanting private island surrounded by a beautiful lagoon, excellent house reef and long stretches of white sandy beach. The only Resort on the island, Hurawalhi is about 400 meters long by 165 meters wide, about 6.5 hectares (16 acres). Your direct seaplane transfer from Velana International Airport is a scenic, 40 minute flight.
90 Villas, including 60 over-the-water Ocean Villas and 30 Beach Villas, some with an infinity pool and/or a sunset view. The Villas offer privacy, spaciousness and comfort. All feature the same contemporary design, the epitome of tropical chic with clean lines, earth tone colors and natural building materials which harmonize perfectly with the surrounding lush, landscaped vegetation on this unspoiled island. Villa furnishings include a king size bed, air conditioning, overhead ceiling fan, personal safe, sitting area, wooden floor, wardrobes, vanity, workspace with charging stations, and private sundeck with chaise lounges, table and chairs. Villa amenities include a wine fridge, mini bar, espresso machine, complimentary tea and coffee, IDD telephone, Free WiFi, Bluetooth sound bar, and a 48-inch flat screen IPTV featuring the latest movies. The indoor bathroom features a luxurious rain shower, double sinks, hairdryer, bathrobes, slippers and nightly turndown service. Guests enjoy complimentary use of chaise lounges at the beach and pool, and beach towels Electricity is 220VAC, 50HZ.
UPON ARRIVAL After clearing Immigration and Customs, you are greeted by our Airport staff and escorted to check-in at the TMA seaplane ticket counter, after which you are transported to the TMA Terminal in our private vehicle. Our staff welcome you with a refreshing, cold face towel, warm hospitality, complimentary beverage, snacks and Free WiFi, while you relax until your seaplane departs. 
UPON DEPARTURE The Lounge at the TMA seaplane terminal remains open in the late afternoon and evening so you can relax in comfort until the time you must check-in for your flight home at the International Departure Terminal. Our staff welcome you with a refreshing cold face towel, complimentary beverage and Free WiFi Private transfer is also provided to the International Departure Terminal. There is a fee of US$25 per person for the above services. Guests may book before they arrive or while at Hurawalhi Guests may order snacks or dinner from an a la carte menu and pay directly at the Hurawalhi Lounge.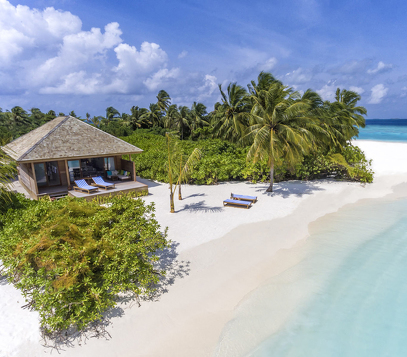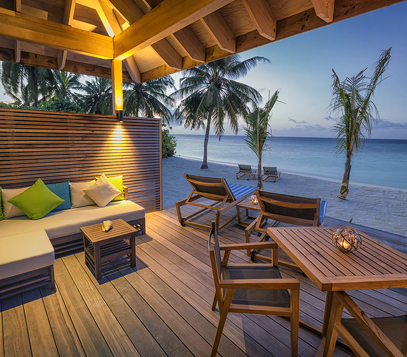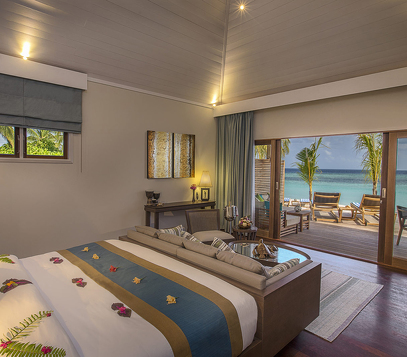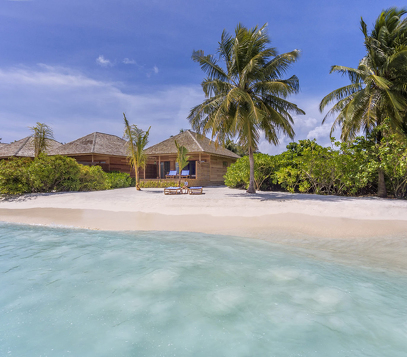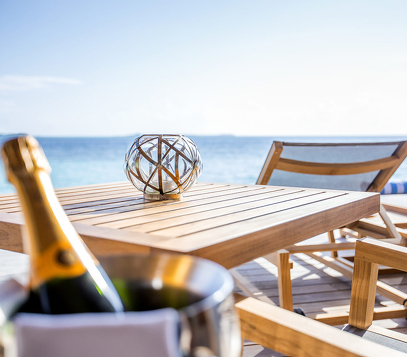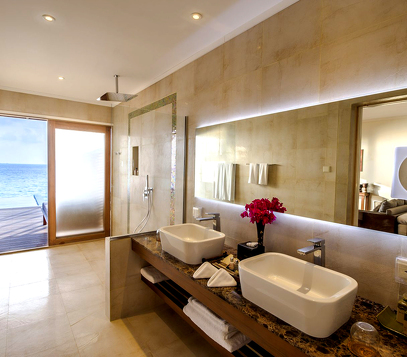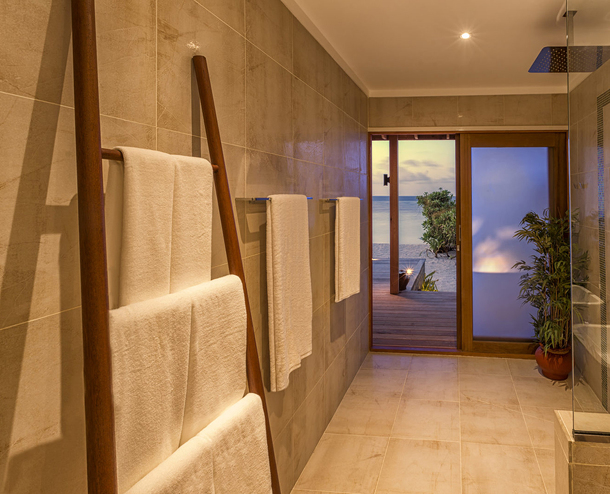 • 9 BEACH VILLAS (105 SQM) on the beach without infinity pool..
The lavishly appointed Beach Villa is popular for the unbeatable lifestyle it offers – the island's sparkling-white beach and the lagoon to which it fades away are steps away from your refined villa.
Making your stay an incredible experience are the peacefulness only possible at a location like the Maldives, clear views of the mesmerizing blues of the Indian Ocean, and paradise pure and simple that your Beach Villa surely defines.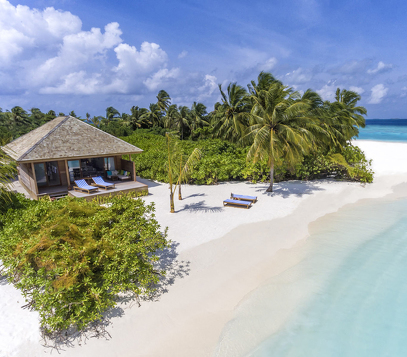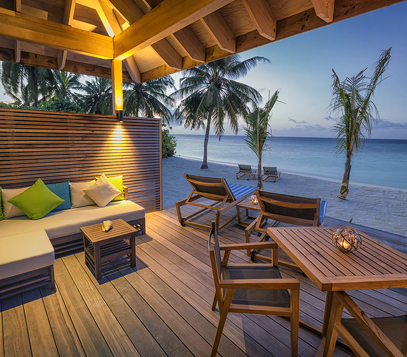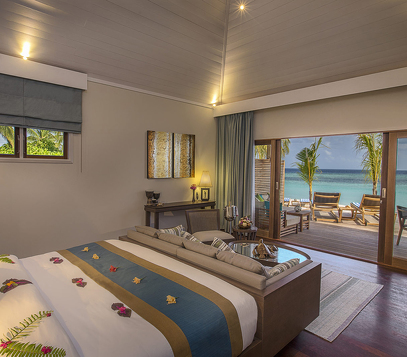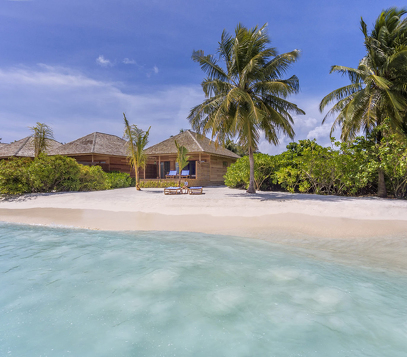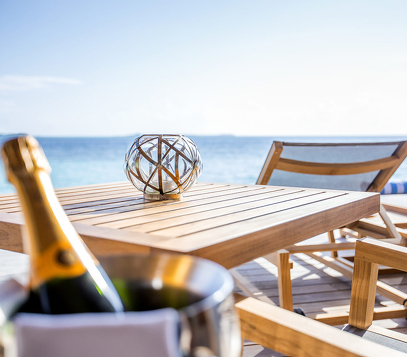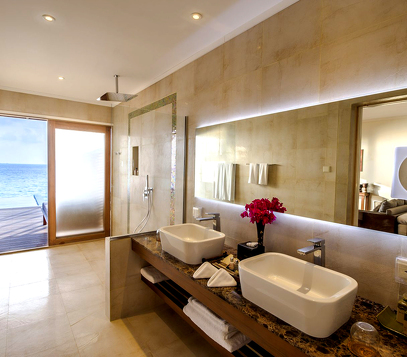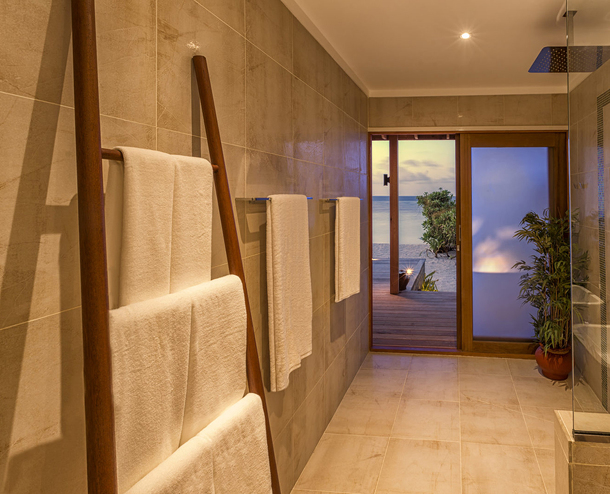 • 6 BEACH SUNSET VILLAS (105 SQM) on the beach with sunset view without infinity pool.
A tropical sanctuary is yours to be had when staying at a Beach Sunset Villa at Hurawalhi. Tastefully designed and located along a strech of white sand, your romantic villa is steps away from the translucent and balmy lagoon. Each moment spent here is delightful and sensual.
Holidaymakers are in for a real treat: elegantly appointed villas afford a luxurious feel and comfort, while the complementing ocean views make your private hideaway a place of serene beauty where you can fully unwind. A lovely beachfront villa from which you can admire how nature turns the sky into a canvas every evening.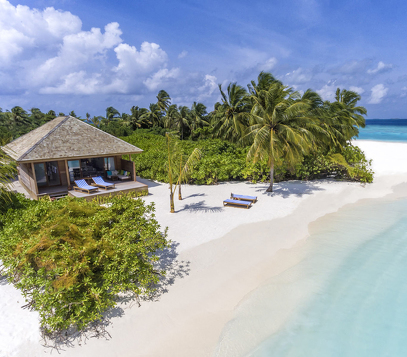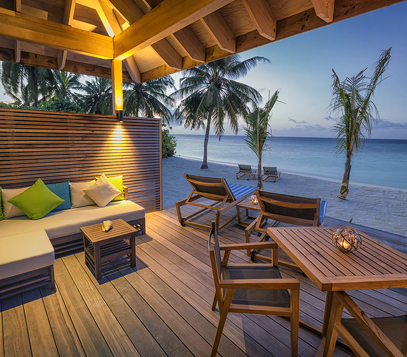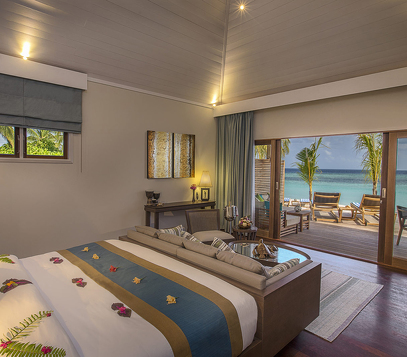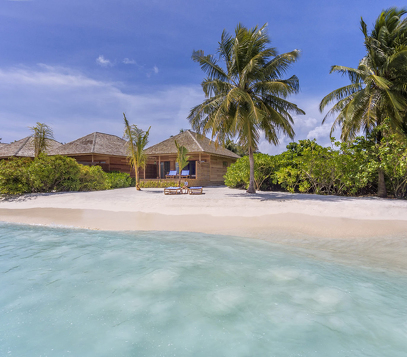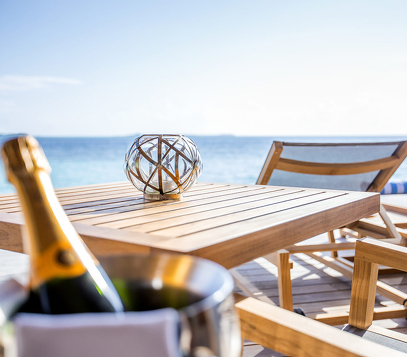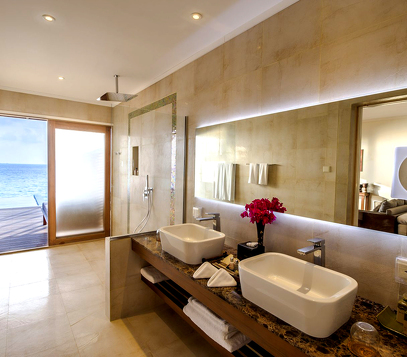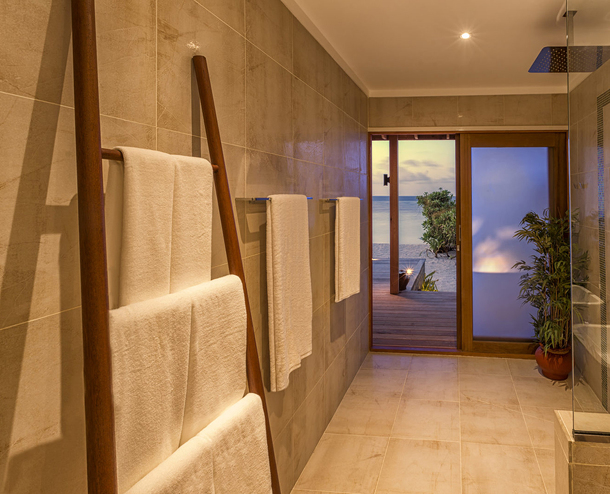 • 15 BEACH SUNSET POOL VILLAS (132 SQM) on the beach with sunset view with infinity pool.
Find beachside bliss in Hurawalhi's Beach Sunset Pool Villa, which draws together all marvels of the Maldives that you desire: captivating views of the sunset, pure pleasures of having your private, ocean-facing infinity pool, and a beach leading to a translucent lagoon just steps away to round the perfection off.
Your Beach Sunset Pool Villa will impress with its charm and the surreal setting; the joys of island life, which makes time seem to pass by more slowly, are yours to embrace – the sand, the sea and the sun come with compliments of Hurawalhi.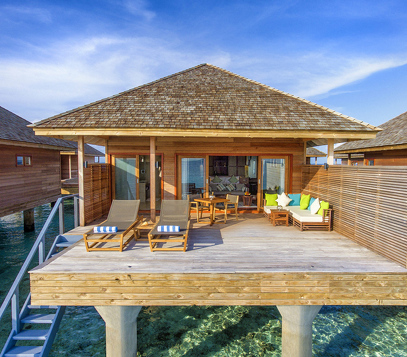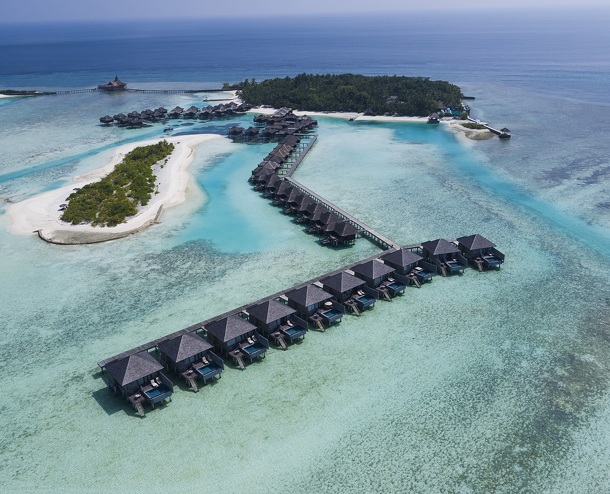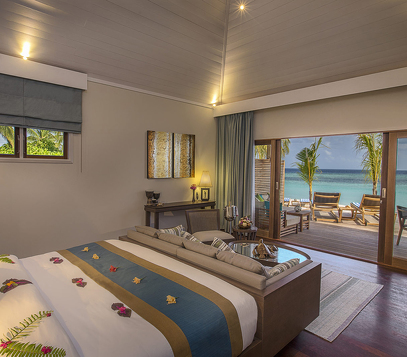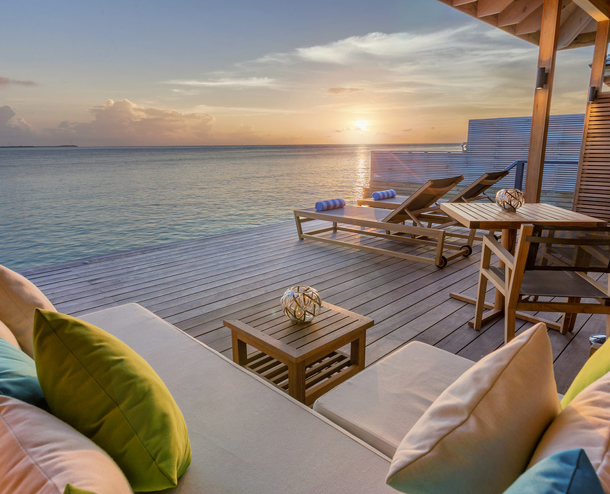 • 15 OCEAN VILLAS (105 SQM) over-the-water without infinity pool.
Get a glimpse of living the high life by indulging and unwinding in an Ocean Villa. This over-water accommodation is bringing opulent design to the striking natural beauty that Hurawalhi is known for.
Celebrate luxury and embrace nature on your doorstep: take a dip in the ocean straight from your sundeck, and let the gentle lapping of the waves beneath your villa create a sense of serenity and tranquility in what is to be wrapped up as your most exquisite holiday.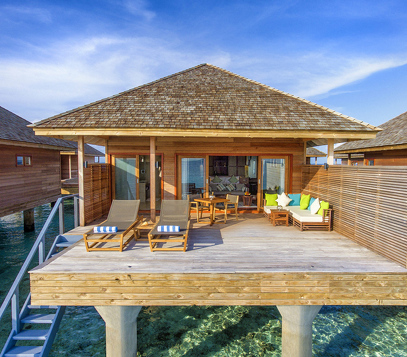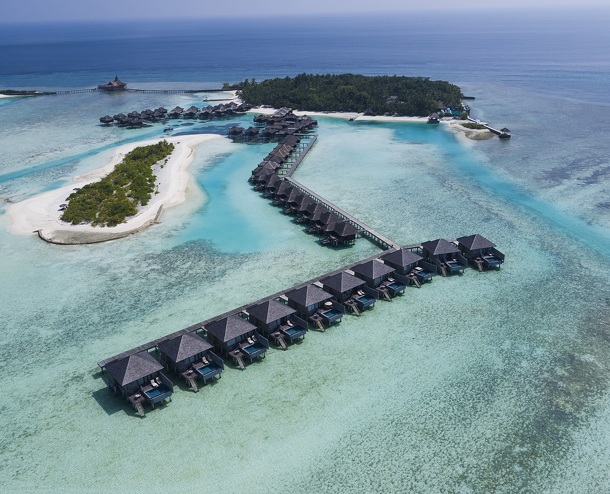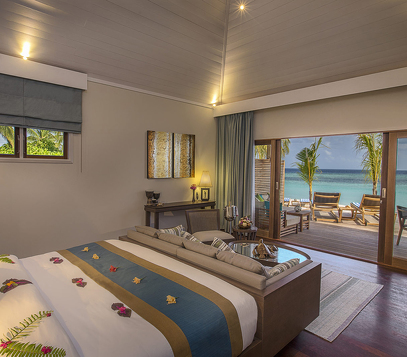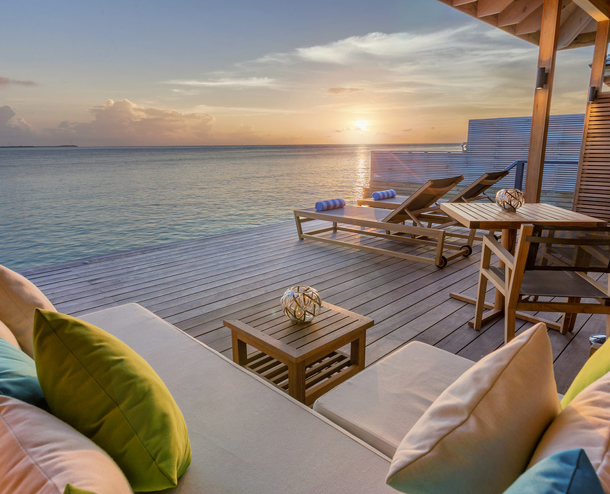 • 15 OCEAN SUNSET VILLAS (105 SQM) over-the-water with sunset view without infinity pool.
The privacy of your Ocean Sunset Villa and the tranquility of its surrounding are perfect for time together with your special someone. The glorious sunsets are the cherry on top of the daily splendour that Hurawalhi entices with.
Wonder at exquisite, undisturbed views of the Indian Ocean from the spacious sundeck and take delight in having the utmost luxury on stilts over the glittering ocean all to yourselves. A heavenly hideaway, ideal for honeymooners and all others who wish to live like royalty during their dream holiday in the Maldives.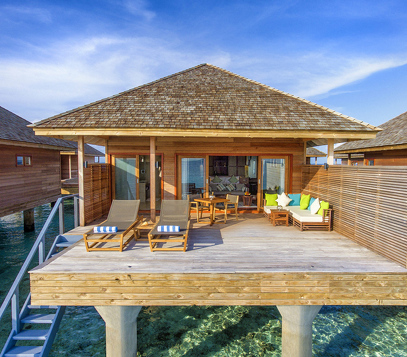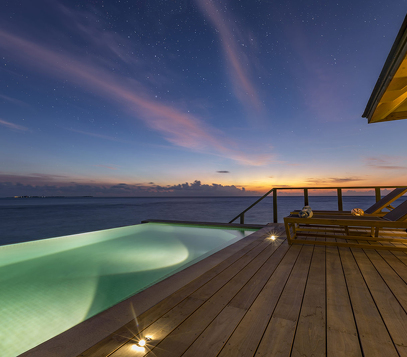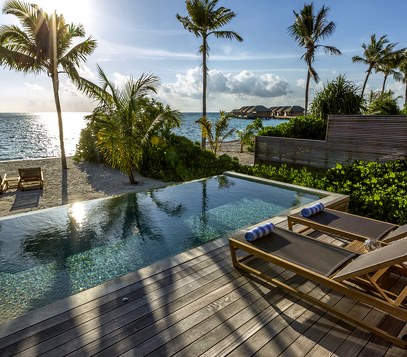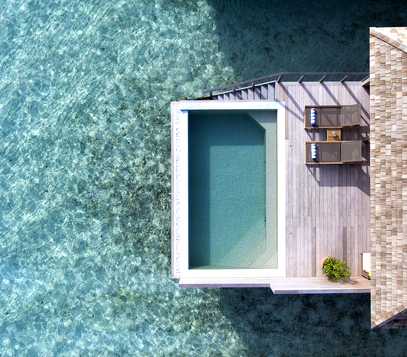 • 15 OCEAN POOL VILLAS (132 SQM) over-the-water with infinity pool.
An awe-inspiring backdrop and contemporary design unite in the Ocean Pool Villa to make your long-lived fascination with over-water luxury a reality. Be swept away by your private retreat perched graciously above the shimmering Indian Ocean and feel the magic of the Maldives.
This emblematic villa conveys a picture-perfect scene: the spacious and sleek interior leads to a refined sundeck from which you can slip into the emerald lagoon, and let your mind wander during cherished moments spent in your very own infinity pool.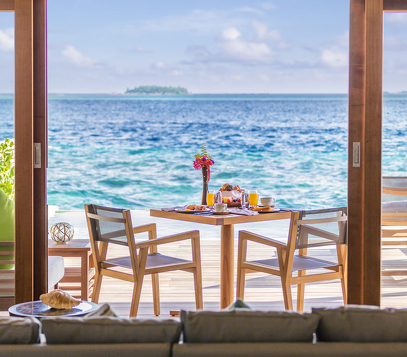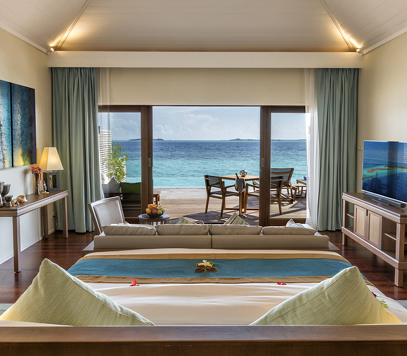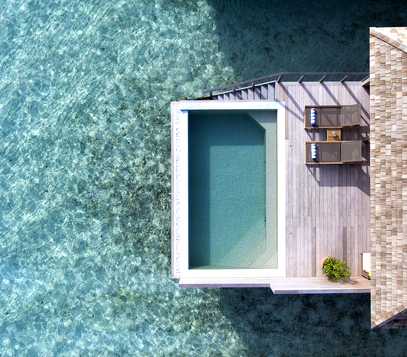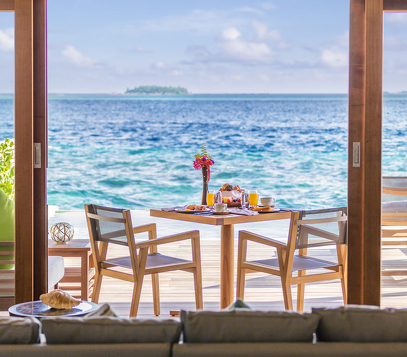 • 15 OCEAN SUNSET POOL VILLAS (132 SQM) over-the-water in the lagoon, a short walk along your private jetty to this secluded hideaway with a private outdoor area featuring an infinity pool "under the stars", and stairs into the sea.
Admire spectacular sunsets from your Ocean Sunset Pool Villa and be astounded by the natural masterpieces that are especially breathtaking when enjoyed from the first row – your private infinity pool.
One of the most sought-after villa categories, the Ocean Sunset Pool Villa beautifully combines the luxuries of a stay right on the Indian Ocean, with the lagoon just below your villa, and views of the graceful sunsets that the Maldives is known for. It is easy to see why lovebirds single out these villas for their romantic retreat – an indulgence with such a fabulous backdrop is hard to surpass.
Undersea Restaurant
Canneli Restaurant
Aquarium Restaurant
WINE CELLAR
BARS
Undersea Restaurant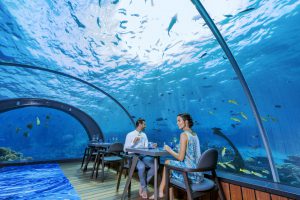 the world's largest, all-glass undersea restaurant for lunch and dinner. Walk down a spiral staircase and be seated at 1 of the 8 tables located 5.8 meters (18 feet) beneath the lagoon where you enjoy a world-class tasting menu and a selection of fine wines from our cellar while being entertained by an exciting natural show of fish swimming around the magnificent surrounding coral reef.
Canneli Restaurant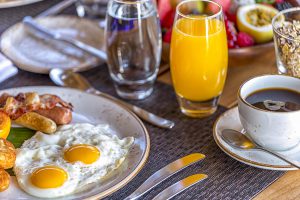 on the beach, serves "all you can eat" delicious buffet style meals for breakfast, lunch and dinner, featuring a variety of international and Asian selections in a traditional open-air dining room with live action cooking stations. Indoor and outdoor seating "al fresco".
Aquarium Restaurant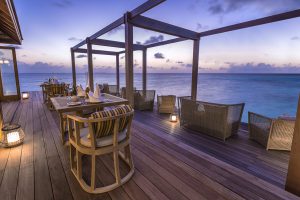 Aquarium Restaurant, over-the-water, serves an international menu specializing in fresh seafood, prime beef and a variety of Asian cuisines including the flamboyant Teppanyaki grill show cooking, for lunch and dinner, as well as a selection of fine wines. Indoor and outdoor seating "al fresco".
WINE CELLAR
The Resort Sommelier will help you choose from the worldwide selection of more than 355 international wines displayed in this windowed showcase in the Aquarium Restaurant.
BARS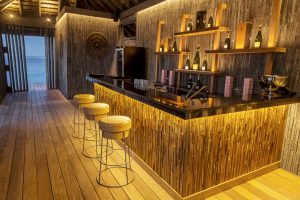 Coco Bar, located on the beach with al fresco deck overlooking the lagoon, the place to enjoy your favorite drinks, watch the beautiful sunset or after dinner, enjoy the evening entertainment, watch your sports events on the big screen or play board games. Open 24 hours. Indoor and outdoor seating "al fresco".
Aquarium Bar, over-the-water, a chic getaway for an after-dinner drink away from the crowd while enjoying the peace and quiet of the surrounding lagoon and the tropical sea breeze. Indoor and outdoor seating "al fresco".
Champagne Pavilion, over-the-water, at the end of the Ocean Villa jetty, is the perfect intimate rendezvous at sunset for a romantic Champagne toast and canapés. Seating "al fresco".
DUNIYE SPA
Over-the-water provides a truly tropical spa experience focused on wholeness, simplicity, purity and quality. The Therapist's healing energy combined with Asian massage techniques and using only chemical free, pure organic compounds, follows a natural, holistic, personalized approach to caring for each guest's health, beauty and wellbeing.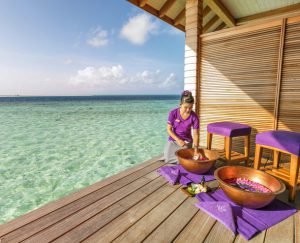 SPORTS AND RECREATION
Beautiful white sand beach, a magnificent lagoon and an excellent house reef for snorkeling. A sparkling clear, freshwater infinity swimming pool overlooking the beach, artificial turf courts for football (futsal), tennis, and badminton; a beach volleyball court, a Fitness Center with Personal Trainer, and a deep sea sports fishing boat.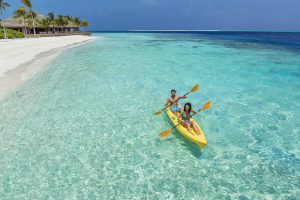 SPORTS AND RECREATION