Included in Conde Nast Traveller's list of best hotels in the Maldives, voted the'Indian Ocean's Leading Luxury Resort' and the 'Indian Ocean's Leading Villa Resort & Spa' at the 2014 World Travel Awards, Ayada Maldives is a private island resort offering a truly luxurious retreat with a genuine Maldivian style. Set in the relatively unexplored Gaafu Dhaalu Atoll in the south of the country – just a few kilometres above the equator – the luxury resort offers 122 spacious villas and suites, with private pools, butler service and thoughtful five-star detailing. Traditional thatched-roof water-villas stand on stilts over the resort's peaceful lagoon, while beach villas offer absolute privacy amid tropical greenery alongside powder-soft palm-lined white beaches. Food lovers can explore the six restaurants, while those seeking complete relaxation will find their haven in the large spa which boasts a Turkish Hammam and eight private treatment villas. 
The resort is noted for its gardens and tropical greenery and is ringed by a pristine coral reef where dolphins are frequent visitors. The active can explore the area on a host of excursions while at the resort they can play tennis or badminton, take up watersports, learn yoga, Pilates or Zumba or simply hit the modern gym. Outstanding diving and snorkeling opportunities surround the island on reefs that have barely been visited by humans while some of the Maldives' best surfing breaks are just a quick speedboat journey away. Weddings take place just before sunset in one of the most beautiful private wedding chapels in the Maldives set in a tree-lined garden, or on the beach under a gazebo draped with flowing material.
3 Nights |Beach Villa With Pool| Halfboard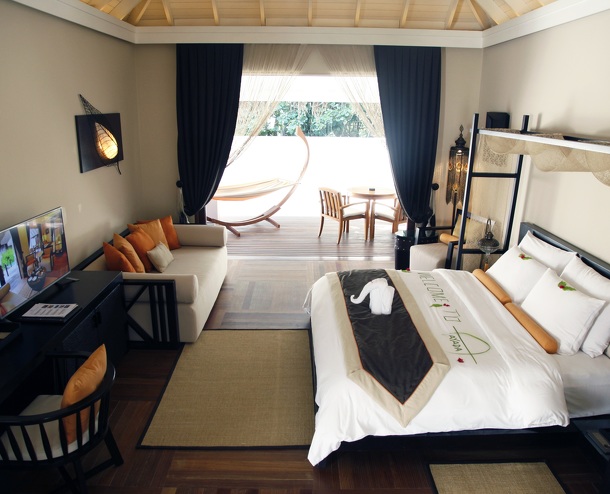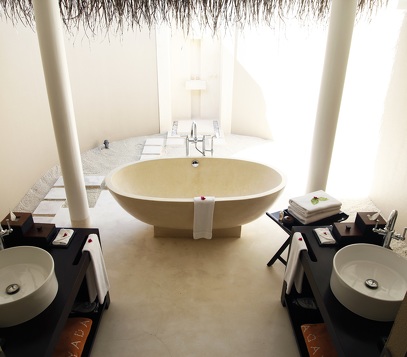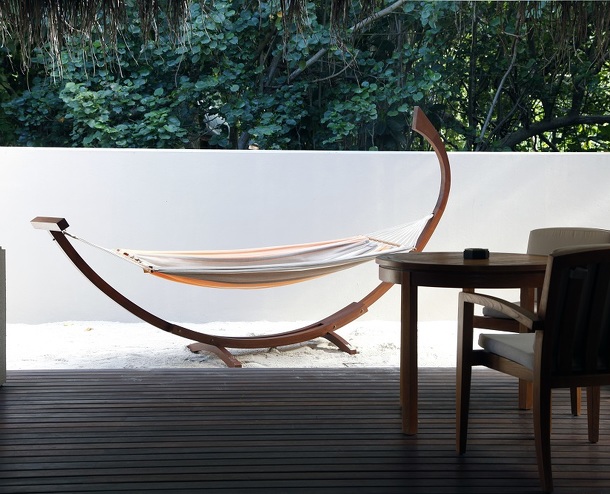 Nestled in tropical garden, our Island Villas are the perfect retreat for friends and family looking to reconnect in a stunning, private setting. Island Villas are furnished with comfort and a relaxing hammock in the garden veranda, with only steps away from all Resort facilities.
Total area – 84sqm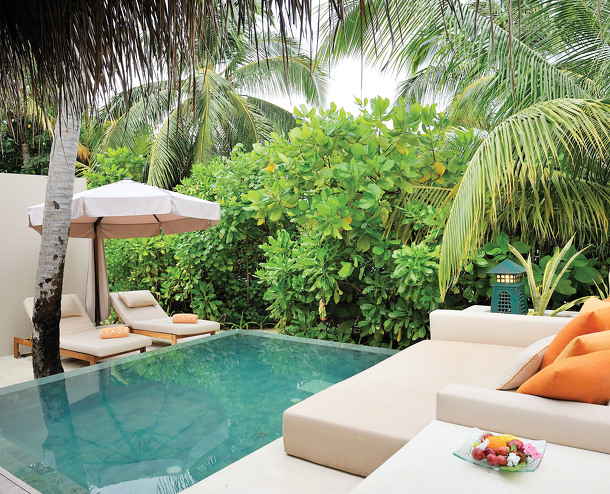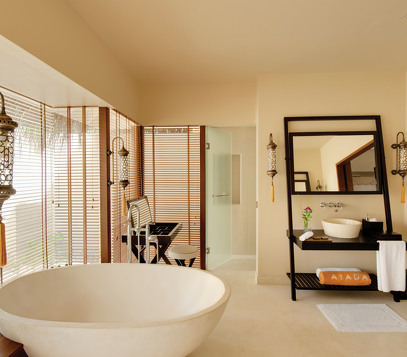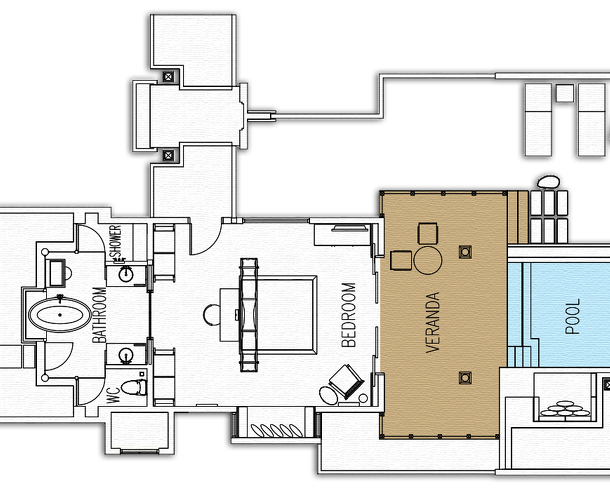 Located on the idyllic stretches of the white sandy beaches, these beachfront villas offer peaceful relaxation both on the expansive private outdoor and plunge pool that surrounded by lush vegetation, with the beach situated only a few steps away.
Total area – 104 sqm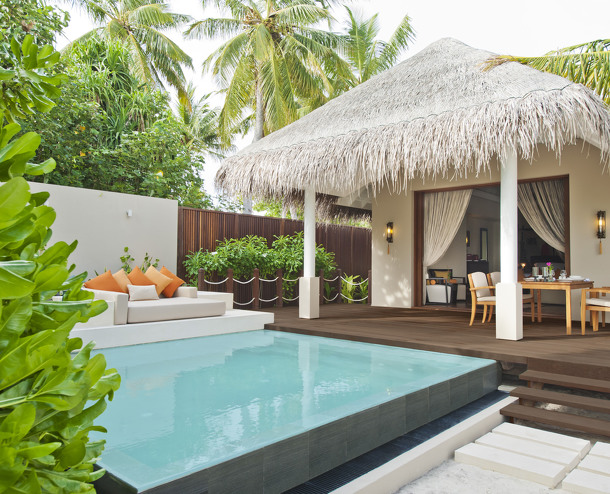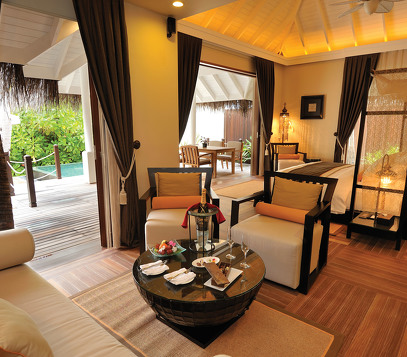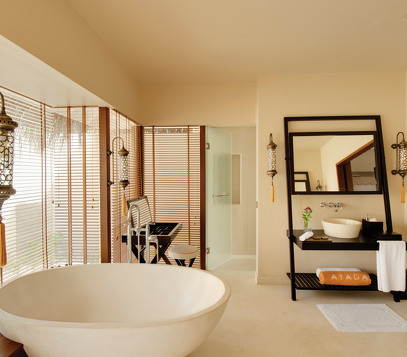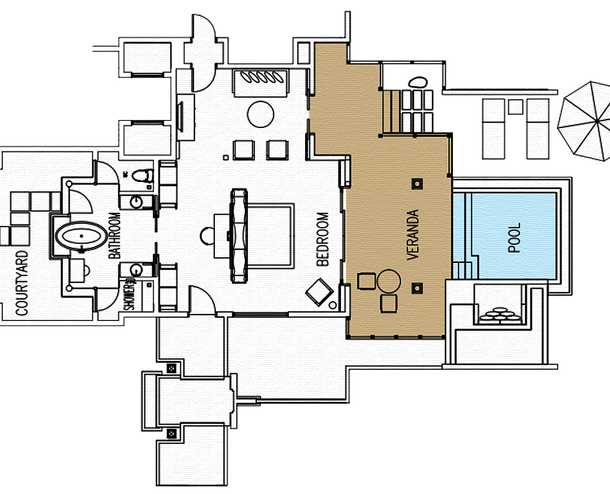 Ideal for vacationing families, these interconnecting villas offer a larger separate individual bedroom yet common outdoor terrace areas with a Beach Villa. Positioned to capture infinite views of the ocean and sunrise, each suite offers a private outdoor terrace, plunge pool and direct beach access.
Total area – 124sqm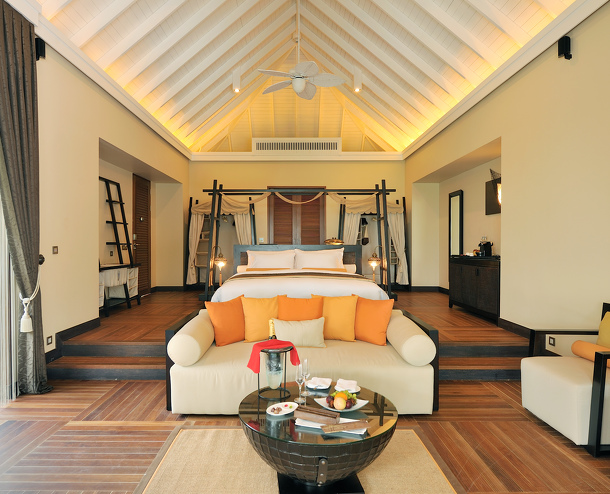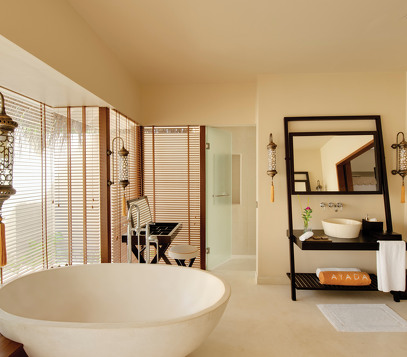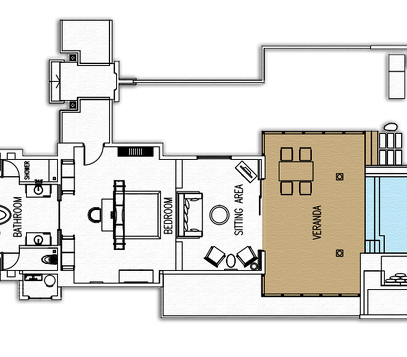 SUNSET BEACH SUITE WITH POOL
These spacious beachfront suites offer a large living area, spacious private outdoor terrace, plunge pool and garden area ideal for romantic private dinners with direct beach access.
Total area – 137 sqm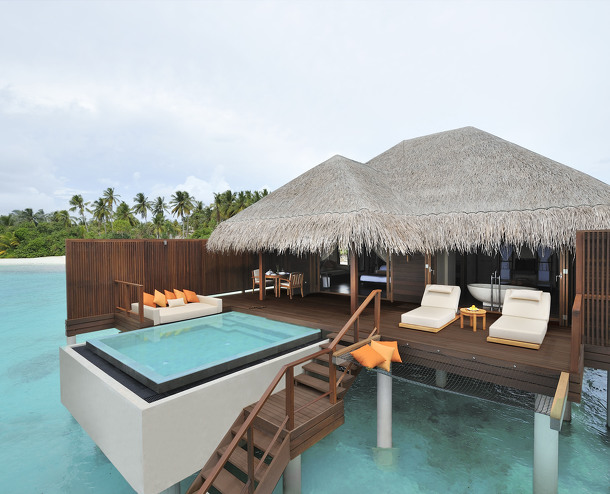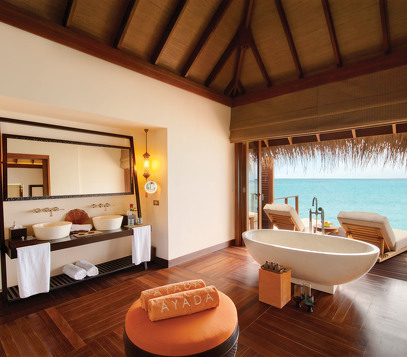 Poised over the lagoon, these over-the-water villas allows for idyllic contemplation whilst lounging on the ocean hammocks with the gentle lapping of the waves to soothe you. These spacious villas offer a private outdoor terrace, ocean hammocks, plunge pool, an uninterrupted view of the horizon and direct lagoon access.
Total area – 117 sqm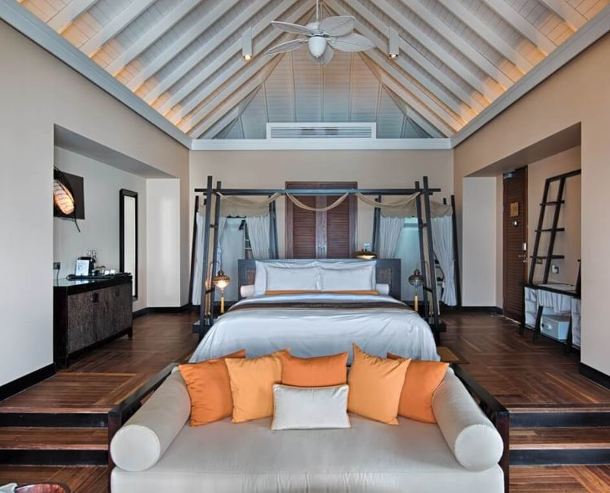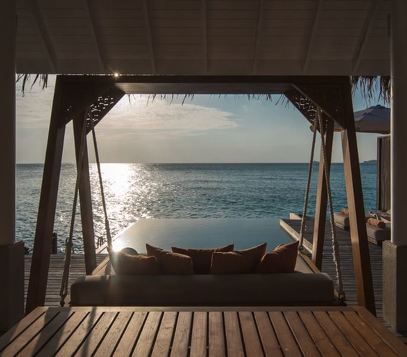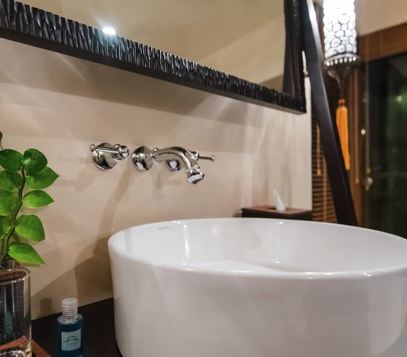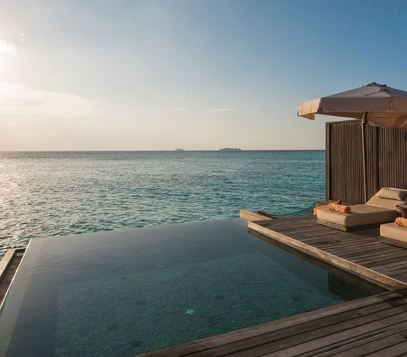 SUNSET LAGOON SUITE WITH POOL
Resting on the land with the outdoor terrace over the ocean, these suites combine the unique features of both the tropical garden and the magical view on the lagoon. These villas offer a large area encompassing a living and bedroom area complete with a bathroom open in the intimate garden. The spacious outdoor terraces offer plush swing sofas, plunge pool to further enhance the tranquil setting and a direct lagoon access.
Total area – 168 sqm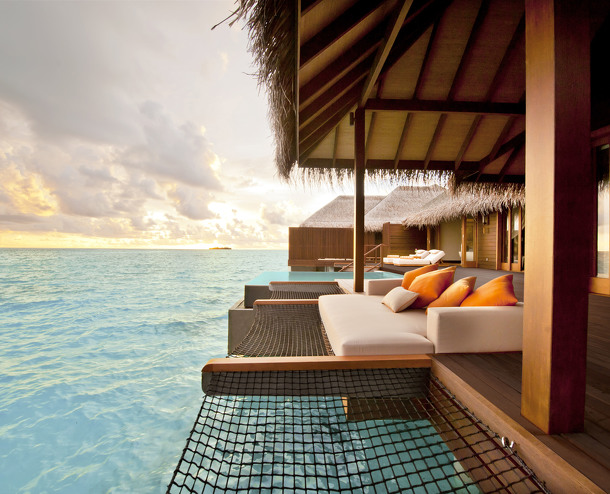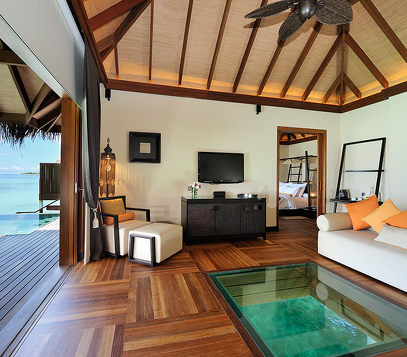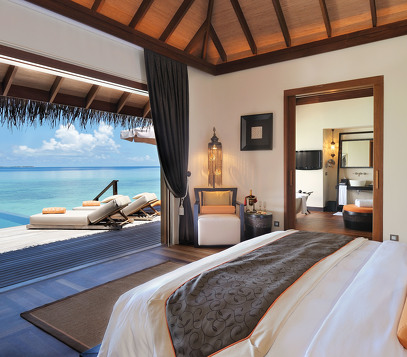 SUNSET OCEAN SUITE WITH POOL
Offering absolute luxury and serenity over the Indian Ocean, these over-the-water suites offer a master bedroom with private bathroom and a living area with a glass floor panel, an additional bathroom and pantry area, a huge sundeck with ocean hammocks and direct access to the lagoon and infinite views of the horizon.
Total area – 172 sqm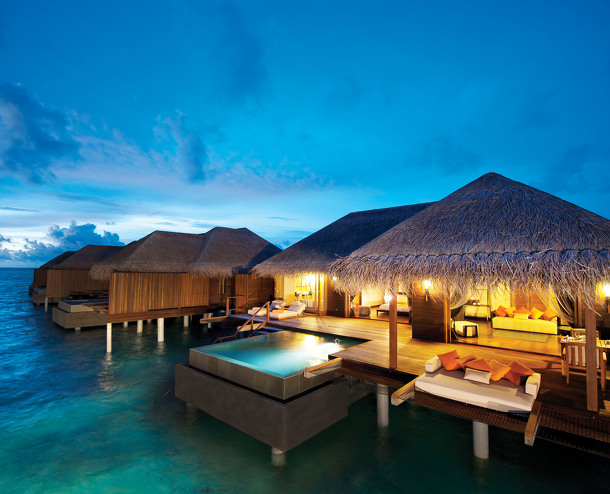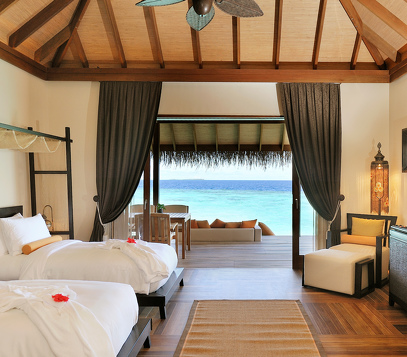 SUNSET OCEAN FAMILY SUITE WITH POOL
Ideal for families travelling with older children, these west-facing over-water suites have two bedrooms; one with a glass floor panel and shower room, and the master bedroom with en suite full bathroom with separate tub and shower. Outside is a huge sundeck with dining table, over-water hammock, private pool, sun loungers, daybed and steps into the ocean below. Floor-to-ceiling windows line one side of both bedrooms ensuring direct access to the terrace and endless views of the horizon.  Guests staying in our suites are treated with a range of luxurious bathroom amenities, including soap, shower gel, shampoo, conditioner and body lotion. 
Total area – 172 sqm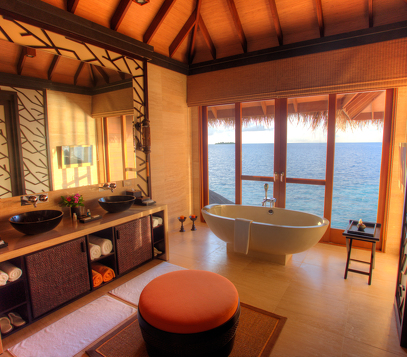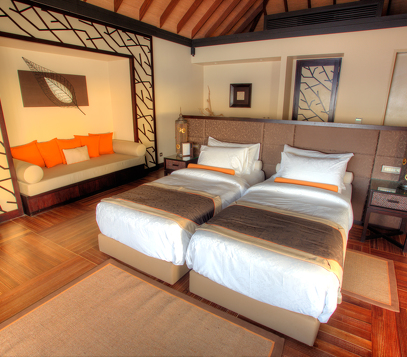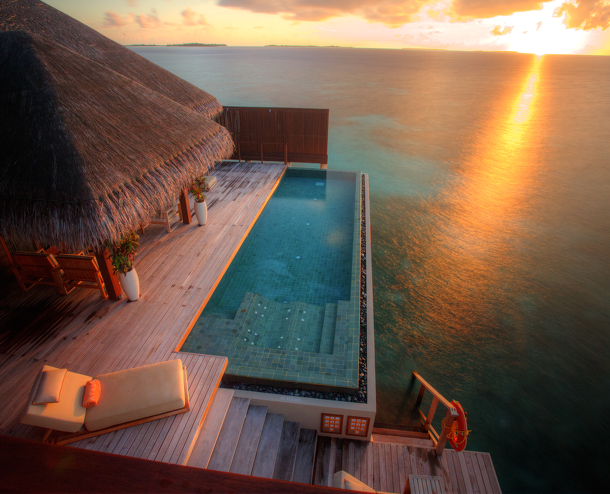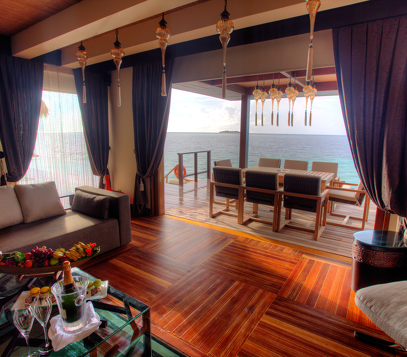 ROYAL OCEAN SUITE WITH POOL
With its distinct location on the edge of the jetty, this duplex split level presidential suite is considered an island enclave and offers spacious bedrooms on the ground and upper floors, a lavish living area and an upper floor terrace providing a 180 degrees view of the Indian Ocean and the horizon with absolute privacy.
Total area – 352 sqm
MAGU - Main Restaurant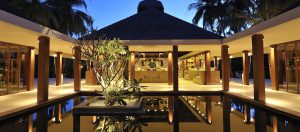 The main restaurant is located on eastern front of the island facing the ocean. Open for breakfast and dinner, this dining venue showcases extravagant buffets of international standards where the menu has been carefully crafted with an abundance of variety and flavor.
Diners can avail themselves to the breathtaking Maldivian sunrise whilst our culinary team takes you on a gastronomic journey with our live cooking stations and a selection of freshly baked bakery and pastry items.  The open kitchen will wow diners with the dramatic culinary flair displayed by our chefs as you enjoy the soothing sounds of the ocean and feel the light morning or evening breeze.
Magu allows for indoor seating in either the enclosed air-conditioned wings or the open pavilions.
OCEAN BREEZE - Over water Restaurant & Bar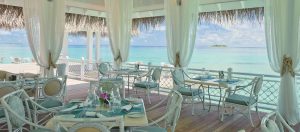 With its Mediterranean ambience, this elegant yet casual bar is the ideal venue for an indulgent aperitif. Lounge and relax on the plush swing sofas whilst you listen to contemporary music or take in the sunset.
KAI - Far East Restaurant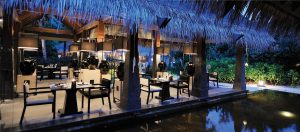 Fusing a unique Maldivian setting with the tantalizing décor and flavors of the Far East from India to Japan, this restaurant provides an authentic experience designed to titillate your senses. Indulge in the soothing ambience at the Far East heightened by the tranquility pool whilst you feast your senses on the extravagant sushi bar, the extensive wine cellar, the two specialized tandoori ovens, the teppanyaki wok and relish the culinary journey on offer.
ILE DE JOIE - Wine & Cheese Island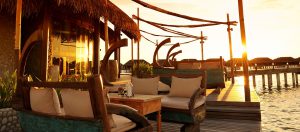 Located amidst the ocean villas, this over the water venue, offers an extensive selection of quality wines and cheeses, an array of the finest chocolate from around the world and a humidor stocked with a variety of the finest  cigars available. The Ile De Joie allows for a truly unique experience with exclusive offerings in an al fresco or indoor bar setting surrounded by the crystal clear water of the lagoon.
The Ile De Joie will also have on offer, luxury and specialty seafood items such a caviar, oysters and clams to name a few.
ZERO DEGREE - Poolside Restaurant & Bar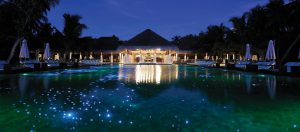 Regarded as the entertainment hub of the resort, The Zero Degree transforms itself from the perfect relaxation area during the day to a lively venue for animated and interactive events in the evening. Whether it is to lounge by the infinity pool within the gazebo style seating whilst enjoying light refreshments or to dance the night away with the live music, the pool bar setting is the ideal location to appreciate the magnificent view over the expansive infinity pool or the glittering night sky.
The Zero Degree offers a light and refreshing menu served to you whilst you laze on the sun beds within the pool or the especially laid out tables in the pool. As the sun gradually sets over the Indian Ocean, the ambience of The Zero Degree changes accordingly, with the in house DJ inviting you to dance the night away or to partake in karaoke or simply to enjoy relaxing and soothing music whilst you delight in the special starry effect of the pool lit up by LED lights and sip a world class cocktail.
THE OTTOMAN LOUNGE - Traditional Turkish Café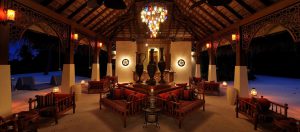 From the serenity and tranquility of the Maldives to the vibrancy of a café in Turkey, Ayada Maldives showcases the beauty and unique experience of sipping authentically brewed Turkish coffee and specialty teas with a wide array of traditional shisha at the Ottoman Lounge. The lounge is reminiscent of a traditional café in Turkey with the Ottoman style furnishings complete with intricate light fixtures and low seating.
MIZU - Teppanyaki Grill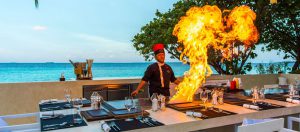 The word Teppanyaki is derived from "Teppan" meaning iron hot plate and "Yaki" which means to grill or fry. That is exactly what you'll experience at Mizu : The chef will prepare the most delicious fish, meat and vegetarian dishes as you watch him skillfully cook in front of you with precision. Add to this the use of top quality ingredients, an extensive choice of sakes and wines and the characteristic of sitting between the ocean and the tropical Ayada Maldives.
Mizu seats 10 diners under its stunning Maldivian night skies and is open seven days a week.
SEA SALT - Beach Barbecue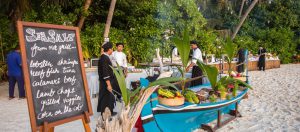 Feel the magic of the Maldives at the mouthwatering beach BBQ held under a carpet of stars where you can feast on freshly grilled meat and seafood.
Ideally situated on the Zero Degree Beach with golden sand, amazing sunshine and a gentle sea breeze, this is the perfect place to savour food from the grill with your feet in the surf… a true delight!
Sea Salt open every Tuesday & Friday at the Zero Degree beach.
Diving
Excursions
AnchorWater Sports
Surfing
Sports & Wellness
Zuzuu Kids' Club
Diving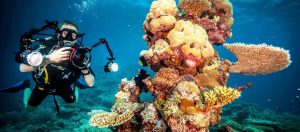 With year round high visibility, favorable weather conditions, stunning coral reefs and free flowing tides of the seasonal monsoons, the Maldives is a haven for divers and ocean lovers.
Over 1,000 species of fish, coral and other marine life inhabit the waters throughout the Maldives; better yet, given the isolation of the Gaafu Dhaalu atoll, the underwater seascape found around Ayada Maldives is still undisturbed and awaiting discovery by enthusiasts. Gaafu Dhaalu atoll is fast gaining an international reputation as being one of the most incredible places to dive and snorkel due to the excellence of its coral reefs and untouched marine life.  Thanks to the relatively small number of divers, it's still possible to dive a reef where the fish have never seen a human being before.
The courses on offer here are all developed by the Professional Association of Diving Instructors (PADI) the world's most premier diving education organization. All our courses guarantee quality and your certification will be globally acknowledged.  All courses are modular allowing for you to begin with an introductory course and progress to a certification course.
ABOUT DIVE KINGDOM
Dive Kingdom International Pvt Ltd has a long history of training and providing high quality diving and water sports services in the international market.
Our services aren't just limited to tourism; we're diving partners of the Nautical Archeological Society in the UK whose aim is to help and educate people and increase awareness of understanding the importance of the nautical archeological heritage.  We're also the official sponsors of nautical excavations in Cyprus.
We're committed to providing the best customer service: our well organized professionals' philosophy is to be focused on the highest guest satisfaction and safety standards.  We can customize our training programs to meet personal diving requirements, from introductory discover scuba diving to professional instructor development courses.
Our international team is able to offer a wide range of languages as we believe passionately in communicating in your language.
DIVING COURSES: Learn to dive or improve your skills
Our experienced team of instructors would be delighted to introduce you to the wonders of diving with a range of beginners' courses.  For certified divers, a choice of specialist and advanced courses are available to add to your skills and underwater experience.
We are a PADI 5* Dive Center and train following PADI's standardized system.  Courses take place both in an air-conditioned classroom and in the calm lagoon directly in front of the dive center. 
Please come to the Dive Kingdom center and learn more from one of our multi-lingual team.
---
DIVING COURSES FOR BEGINNERS
Bubble maker
The Bubble Maker is a tailor made program for children between the ages of 8 and 10 years. An instructor will conduct one" try dive" in the shallow lagoon as an introduction to diving.
Discover scuba
Confined water
An introductory course to diving, this program teaches diving basics from breathing exercises to confidence building exercises conducted by an instructor in the shallow lagoon followed by a mini diving tour.
Discover scuba diving
Confined water + 1 open water dive
Following the "Discover Scuba" this program will allow you to dive within the lagoon at a depth comfortable to you with an instructor. Upon completion of this program, we recommend you continue with a boat dive where you explore a nearby dive site.
Scuba diver
Confined water + 2 open water dives
As the first step in obtaining a full certification, this three session program complete with two Open Water dives is designed to ensure that you master the dive skills required under the supervision of your instructor.
Open water diver
Confined water + 4 open water dives
The Open Water Diver is the complete certification course with five confined water sessions and four Open Water dives. This course usually takes between three to four days to complete and is aided by the Open Water video, the log book and your instructor; however the option to pace the course according to your schedule is available.
DIVING COURSES FOR CERTIFIED DIVERS
The Orientation Dive
An orientation dive in the lagoon is necessary in order to refresh your basic dive skills, your equipment and to acclimatize yourself to the conditions in the Maldives with an instructor on hand to assist you if you so wish.
Scuba Review
If the orientation dive is not sufficient to refresh your dive skills and to renew your confidence, a dedicated one-dive program is available to review the Open Water skills with an instructor.
A Boat Dive
The dive center runs two boat dives a day (usually one in the morning and one in the afternoon) where we travel to dive sites nearby the resort.  All sites have been carefully selected to ensure visibility and the abundance and variety of the marine life considering weather, seasonality and wildlife. We would be happy to plan trips to any other suggested dive sites depending on the location.
Dive Package
A must for dive lovers, ask us about our package of five dives.
Adventure Diver Or Advanced Open Water Diver
Upon certification, adventurous dive programs are on offer to take your dive skills to the next level whereby you can select from a range of specialty programs including night diving, navigation diving, deep diving, search and recovery diving, underwater photography, drift diving and much more. After three specialized dives, you are certified as an Adventure Diver or with another additional two dives, you can then qualify for the Advanced Open Water certification.
Specialty Diver
Should you wish to specialize in any of the adventure dive programs, we offer a comprehensive insight in to your chosen specialty and upon completion of three dives you may obtain your certification as a Night Diver, Deep Diver, an Underwater Photographer, a Search and Rescue Diver and much more.
Rescue Diver
Upon completion of the Advanced Course you will have all the requisites to become a Rescue Diver. Our instructors will guide you through 12 real life emergency situations whereby you can improve upon your rescue skills accompanied by 5 theory sessions.
Emergency First Response
All divers attending the Rescue Course need to be medically trained; this can be done at home by attending a basic CPR course, however the dive center offers the Emergency First Response course. These courses are conducted by trained instructors and can be useful for everyone including non-divers.
Divemaster
The Divemaster certification is the first professional level of PADI and incorporates all aspects of dive planning, dive management and control, basic training in physics, physiology and equipment handling. In addition all divers obtaining this certification must assist in conducting dives for others for a period of two weeks.
SOME OF OUR FAVORITE DIVE POINTS
Kaashidhoo Thila
– Location: 40-mins by dhoni
– Diving Depth: 10-30 Meters
– Highlights: In season, hunting group of  jack fish & trevally
– Experience: All levels of certification if conditions are suitable
Coral Garden II
– Location:  30-mins by dhoni
– Diving Depth: 10-30 Meters
– Highlights: One of best sites for hard coral.
– Marine life: napoleons, school of snappers, fusiliers, cardinalfish, nurse sharks
– Experience: For the more experienced diver
Fanka Thila
– Location: 35-mins by dhoni
– Diving Depth: 10-30 Meters
– Highlights: an abundant variety of marine life
– Marine life: fan coral, sharks (early morning), group of fusiliers, basslet
– Experience: for the more experienced diver
No name (New)
– Location:  25-mins by dhoni
– Diving Depth: 12-30 Meters
– Highlights:  an abundant variety of marine life
– Marine life: garden eels, bat fish, sharks, turtles, trevally, school of basslets
– Experience: For the more experienced diver
Coral Garden I
– Location: 15-mins by dhoni
– Diving Depth: 12-30 Meters
– Highlights: Coral blocks
– Marine life: blenny, cleaner fish, sand perch, cardinalfish
Aquarium
– Location: 15-mins By dhoni
– Diving Depth: 3-25 Meters
– Highlights: This spectacular site has many different features.
– Marine life: turtle, sting ray, eagle ray, trigger fish, snapper, emperor fish
– Experience: All levels of certification if conditions are suitable
Gan channel
– Location: 50-mins by dhoni
– Diving Depth: 15-30 Meters
– Highlights: Strong current. An abundant variety of marine life
– Marine life:  sharks, turtle, grouper, snapper, tang, unicorn fish
– Experience: For the more experienced diver
Gadhoo channel
– Location : 50Mins By Dhoni
– Diving Depth : 10-30 Meters
– Highlights: Strong current.  An abundant variety of marine life
– Marine life : Turtles, leopard sharks, snappers, group of fusiliers, basslet, jack fish
– Experience : For the more experienced diver
Manta point
– Location: 25-mins by dhoni
– Diving Depth: 10-30 Meters
– Highlights: Mild drift diving. In season, manta rays
– Marine life: Manta rays, napoleons, reef sharks
– Experience: All levels of certification if conditions are suitable
Vaadhoo Thila
– Location: 50-mins by dhoni
– Diving Depth: 10-30 Meters
– Highlights: It can have strong currents and a quick descent down to reef creates a good drift dive
– Marine life: lobsters, turtles, sharks, moray eel, surgeonfish, butterfly fish
– Experience: For the more experienced diver
Gabur Island
– Location: 20-mins by dhoni
– Diving Depth: 2-20 Meter
– Highlights:  turtles, small colorful basslet, damsel fish, wrasse, some soft corals
– Marine life: Fish life is average
– Experience: For beginners and advanced divers
Excursions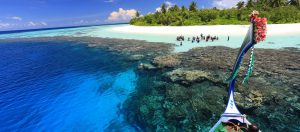 BIG GAME FISHING
Big game fishing in Maldives water can be one of the most unforgettable adventures of lifetime for keen fisherman & first timers alike.  Get ready to tackle the big boys of the ocean: tuna, sharks, wahoo, sailfish, swordfish, barracuda . . . you never know what's out there.
FLY-FISHING
Saltwater fly-fishing is considered one of the most exciting methods of using a fishing rod.  Cast your line and see what bites when we bring you to our favorite fly fishing spot.
TRADITIONAL MALDIVIAN FISHING AT SUNSET 
Take a traditional Maldivian wooden boat and try your hand at traditional Maldivian fishing as we set sail before sunset and see if the fish bite.  If you're lucky with your line, Ayada's chef will prepare and cook your catch for you tomorrow.
GLASS-BOTTOMED BOAT TOUR
See the sights of the undersea world from the breezy comfort of our glass bottomed boat as we take you for a drive above the beautiful coral reefs of Ayada.
SUNSET AYADA ROUND TRIP 
See the island from another angle – from the ocean – as we take you on a boat trip around Ayada at sunset so you can take some spectacular pictures. 
EQUATOR CROSSING 
Join the band of the select few who've crossed the Equator by sea and impress everyone with your souvenir signed certificate.  Please note: this excursion is weather dependent and the waves can be a little rough on this trip.
DESERTED ISLAND PICNIC
Let us take you to a nearby deserted island for a romantic Robinson Crusoe experience you'll treasure forever.
ROMANTIC SUNSET CRUISE 
Sunset cruises are among the most romantic activities for honey moon couples in the Maldives.  Jump on board for a cruise into the beautiful blue ocean and make sure you have your camera with you to take some photos on the boat's top deck as you watch the sun goes down.
ISLAND HOPPING 
Find out for yourself why we have a worldwide reputation for amazing coral reefs as we take you snorkeling to two of our favorite sites.
LOCAL ISLAND VISIT
See what life is like on a real Maldivian island; see textiles being woven and maybe say hello to a few of the locals.  This island adventure starts at a traditional local village where you can immerse yourself in the lives of a local Maldivian community and drink fresh coconut after it's been picked from the tree for you.
DOLPHIN SPOTTING
We head out to join our neighbors in the ocean, the spinner dolphins to see them play and leap.  Note: sightings are not guaranteed but we're pretty good at finding them.
DOLPHIN SPOTTING & SNORKELING 
Grab your snorkel and jump on board for this trip to visit our lovable neighbors: spinner dolphins followed by snorkeling on a beautiful coral reef. Note: there is no swimming with dolphins on this trip and sightings aren't guaranteed.
PRIVATE HOUSE REEF SNORKELING
Our house reef is one of the best in the country. Let one of our guides take you to explore its beauty.
AnchorWater Sports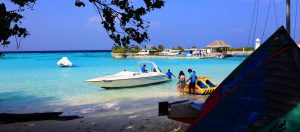 SNORKELING 
Ayada Maldives has some of the most amazing coral reefs in the area which are well worth exploring, and snorkeling is the easiest and best way to discover the reef and abundant marine life. We recommend that you speak to us first regarding the ocean conditions because the currents may affect your experience. We advise you to begin snorkeling against the current as when you get tired, it is easier to come back with the current. Remember that sunburn is very common, so cover up with waterproof sunblock to protect yourself prior to snorkeling.  Fins, mask and snorkel are provided free of charge to our guests during your stay and we kindly request that you return them one day before your departure.  For less confident swimmers we also provide lifejackets to wear in the water free of charge.  Please see the map for the best snorkeling spots around the island.
CANOEING
Take a gentle tour of the island from the ocean on our ocean paddle boats either on a single or double canoe and enjoy the beauty of the sea while getting a good upper body workout.
WIND SURFING
The mild winds and the shallow lagoon provide for the perfect conditions for wind surfing. Our water sports instructor will be happy to provide a refresher course or to teach you on the finer points of windsurfing. Combining the basic elements of surfing and sailing, Ayada Maldives offers a variety of options for windsurfing with different boards and sails for experienced windsurfers with lessons and courses available for those wishing to try for the first time.
STAND UP PADDLE BOARD
The latest trend to hit the water sports world, Stand Up Paddling (SUP) is easier than surfing and gives you the chance to catch more waves in set and get a better view of incoming sets.  As well as being tremendous fun, it's also famous for giving a strong core workout – great for fitness fans.
CATAMARAN SAILING
Set sail with our seasoned captain and enjoy the rush of adrenaline that comes from being out on the water on a catamaran. Visit a nearby island or simply bask in the delight of being in the open sea. These non-motorized sailing experiences are perfect either by day or at sunset.
JET SKI
One of our most popular activities, here you can enjoy the thrill of speed on the water. As you head off to your adventure rest assured that one of our experienced guides will safely lead you to beautiful spots.
FUN TUBE
Bounce across the waves in a tube connected by a rope to our speedboat. Just give it a try and you will understand why it's called a FUN tube. With you sitting inside that tube, the boat slowly starts accelerating and you move just above the water at great speed. Great fun!
BANANA BOAT RIDE
The classic water fun: you sit with up to five people on the banana as we tow it at speed: the aim is to remain seated. As the speedboat gets faster and turns you'll have to hold on to the banana and try to stay sitting on it. It's an easy, fun, sport that's safely conducted with lifejackets.
WATER SKIING / MONO SKIING / WAKEBOARDING 
When the wind is calm and the water on the lagoon is flat, it's the perfect time to get out on the water for water skiing.  For seasoned water skiers, why not try the mono ski or wakeboarding?
SPEEDBOAT RENTAL 
Speed lover? Long to feel the wind in your face and taste the tang of the sea spray?  Then ask about renting our speedboat and feel the gentle adrenaline rush as you race across the ocean.
Surfing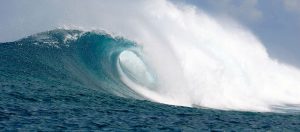 Surf's up!  AYADA Maldives is located only a few minutes' boat ride from some of the best surf breaks in the country.  So what are you waiting for? 
Our surfing program is ideal for both beginners and experts who want to surf a few the best surfing points in the Maldives.   We provide high quality guiding to the surf points, taking into consideration the weather, sea conditions and the forecast in the region.
If there are no more than four surfers, we use our 7-meter zodiac to access the surfing point with one captain, and our surfing guides. If we have more than four surfers, we use our 14-meter diving boat, together with our zodiac. 
We offer a variety of boards free of charge for a three to four hour trip.   We can go surfing two times a day, with the exact timings decided by the surfer and our guide according to the weather conditions.
SOME OF OUR FAVORITE SURF POINTS
Blue Bowls
Approximately 25 minutes from Ayada Maldives.  Also known as Voodoos, Blue Bowls is a flexible right that is unusually protected from onshore winds, due to being tucked away inside the pass between Castaways and Five Islands. More of a point style wave, this protected peak wraps smoothly around the point before opening up into a series of bowls (hence the name).
The sections repeatedly bowl up into wide and open faces leading to a nice long ride, fit for shortboard shredders, but mellow enough for funboards and longboards. The protected setting from the wind makes Blue Bowls almost always surfable, especially since it handles all stages of the tide really well.
Blue Bowls ranges between three to eight feet but is particularly ideal at four to six feet, with westerly wind during a southeast or southwest swell. This is definitely the place to head to if unsure about everywhere else.   
Five Islands
Around 15 minutes from Ayada Maldives and similar to Blue Bowls, Five Islands is a long right-hander well protected from south to southwest winds. More of a cannon than Blue Bowls, Five Islands throws harder and hollows out more as it breaks along the reef. Breaking in a series of different sections, the wave needs a good southerly swell to combine all the sections, but creates one of the longest and cleanest barrel rides in the Southern Atolls when it does. The outside section forces a deep take off, which is a little challenging but provides the necessary speed to make the subsequent sections. After the takeoff it is off to the races, and the surfer to make the most sections wins not only an epic wave, but an easier paddle back out.
Five Islands can handle the biggest swells and all stages of the tide, but typically ranges from two to eight feet and is best at mid to high tide—which also helps you avoid the shallow reef on the inside. If you are thirsting for tubes, Five Islands is one of the more consistent barrel spots in the southern atolls.
Two Ways
About 15 from Ayada Maldives, Booga Reef, called Two Ways because it breaks to the left and the right, is located just across the pass from Five Islands. Two Ways (as the name promises) offers two incredible waves that peel in two different directions from the same southern point of the island.
Two Ways is the kind of set up that surfers everywhere have been imagining for years, but never thought quite possible.  As opposed to the shallow and speedy surrounding waves, Two Ways offers slower waves that peel nice  and easy through deeper water, a little less powerful, but great for intermediate surfers hoping to practice some more technical maneuvers that the three-second rides at their local break have not allowed.
Protected a little bit more than the lefthander, the right is usually a bit bigger and holds its shape a little better than the left, but it also requires a bigger swell to reach its protected position.  With waves that typically range between three to six feet, Two Ways is that place that everyone remembers with the word "fun" because it is a good spot for all levels and usually offers the best refuge when the southerly facing reefs are blown out or simply out of control. This, of course, means an increase in crowds, but remember you are dealing with two perfect waves—so there's always the chance everyone else will be lining up for the right-handers, while you pull into left after left of pure bliss.
Since it breaks in all levels of the tide, be sure to check this spot out during a southerly swell and in northerly winds to find it at its best.   
Love Charms
Approximately 10 minutes from Ayada Maldives, Love Charms is Huvadhoo Atoll's lovely little patch of lefthanders that you can always count on. Located right next to Two Ways, Love Charms is a love letter to all you goofy footers out there who spent or spend countless hours drawing left-breaking waves in the corner of your notebooks. This place is always breaking, and in the right conditions can churn out some really amazing waves.  
Love Charms is one of the few waves in Huvadhoo atoll that transforms entirely depending on both the tide and the size of the swell. On a lower tide, during a smaller swell, it breaks up into two distinct sections—which is arguably the best case scenario. Bigger swells and higher tide tend to connect the waves into a long and hollow wall that can offer an incredibly long and hollow ride, if it holds up down the line—but even if the wave sections off, the inside barrels up into protected pockets.  
Breaking in any stage of the tide, and handling pretty much any swell size or wind direction, Love Charms is at its best when breaking between two to ten feet, with northwest winds during any southerly swell.
Antiques
Around 25 minutes from Ayada Maldives and located in the same inlet between the islands of Gan and Gadhdoo as Tiger Stripes, Antiques matches every left that Tiger Stripes pumps out with a smaller, and more forgiving righthander. As the name indicates, Antiques is slightly less fierce than its nearby sister wave but almost as consistent.   
Ranging in size between two to six feet, Antiques shares Tiger Stripes consistency, but lacks its power and size—making it a pretty good spot for beginners and intermediate surfers, especially natural footers.     Similar to Two Ways, the close proximity of these two waves breaking in opposite directions leads this area to be another boat trip and surf charter favorite, which sometimes can lead to crowds, but nothing too unreasonable when you are dealing with two separate peaks.
Like Tiger Stripes, Antiques nearly always breaks at any stage of the tide, but gets particularly noteworthy during a larger southerly swell, with northwest winds. This might not be the wave you sail out to on its own, but the close proximity to Tiger Stripes makes this narrow little inlet pass a real treasure.  
Tiger Stripes
About 25 minutes from Ayada Maldives and to the northeast of Love Charms, in a narrow inlet between the islands of Gan and Gadhdoo, a lefthander breaks across a reef adorned with narrow gouges that look like stripes on a tiger.
Tiger Stripes, sometimes referred to as Rockets, is an open lefthander that doesn't get as hollow as some of the other nearby waves, but makes up for that with long and consistent carvable walls, fit for a variety of surfers and fun in a variety of conditions.   
Although Tiger Stripes is pretty unimpressive when small, it luckily ends up being a lot bigger than everywhere else.  After a tricky takeoff, the wave leads into a steep wall that speeds up as it turns the corner to an inside section that wraps around and occasionally barrels before mushing out into the channel.   
Regularly noted for consistency, Tiger Stripes is the type of wave that—if there is swell—you can always count on to perform. It is a notoriously easygoing and cooperative wave, handling all stages of the tide and any variation of southerly swells, while breaking best during a southeast swell with northerly winds. It typically ranges from two to eight feet in size, but is definitely better the bigger the swell—a prime option when everywhere else is closing out.  
Sports & Wellness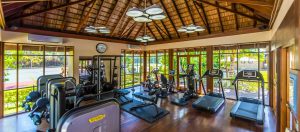 FITNESS CENTER
A fully equipped state of the art fitness center is available from 08.00 am – 11.00 pm at the Recreation Center. Manned by highly qualified  trainers, this  center offers a range of cardiovascular equipment, weight machines and free weights. The trainers are available for private consultations or private sessions. A games hall is available at the Recreation Center for your enjoyment and offers PS4, table tennis, billiards, table football, and darts.
GAMES HALL
A games hall is available at the Recreation Center for your enjoyment and offers PS4, table tennis, billiards, table football and darts.
JOGGING TRACKS
Three jogging tracks measuring 900m, 1200m and 1600m around the resort are available. Please contact the Leisure Concierge by pressing the "Things To Do" button on your telephone or contact your Butler or Guests Relation Agent for more information or please review the resort map for the detailed outline of the tracks.
SWIMMING
The  lagoon  is  shallow  and  safe  for  swimming  as  there  are  no underlying ocean currents. We advise visitors who are not strong swimmers to make use of free life jackets available at the dive center and to stay in close proximity to the beach. Please take extreme care during bad weather and heed the flags indicating swimming restrictions. Please contact the dive center by pressing the "Below The Surface" button on your telephone or your Butler or Guests Relation Agent for more information. We advise all guests to contact the Medical Team in the event that you are cut by the coral as some may lead to infections or allergic reactions.
FOOTBALL
A mini artificial floodlit football ground widely regarded as the best available in the Maldives is available adjacent to the Recreation Center. The ground is open from 08.00 am to 10.00 pm.
TENNIS COURT
Our floodlit tennis court is open from 08.00 am to 10.00 pm.
YOGA STUDIO 
An exhilarating schedule of Yoga/ Pilates and aerobics are on offer for fitness enthusiasts who don't want to cut back on their regimes whilst on vacation. An experienced instructor will allow you to schedule  classes  at  your  convenience  and  fitness  level.
Zuzuu Kids' Club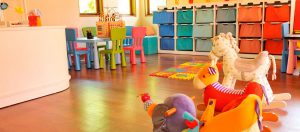 Ayada Maldives provides a fully equipped Kid's Club on site supervised by trained and experienced professionals. Open from 09.00 AM to 06.00 PM and inviting all children, this facility offers a host of recreational and educational activities conducted by a personable and attentive team.
The Kids Club area is complete with its own pool, nanny room, a stage and playground area with a jungle gym. All activities and services are offered complimentary unless specified. Baby sitting service is available on request. 
Fun and innovative activities are on offer including supervised snorkeling and swimming lessons, cooking classes, t-shirt painting, face painting, and an educational insight into the flora, fauna and marine life that is so unique to the Maldives.